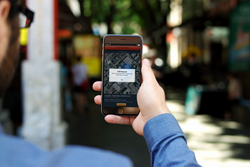 By engaging the public in a novel way, mobile technology creates a new conversation around the importance of being CPR and AED trained.
PITTSBURGH (PRWEB) October 10, 2018
The Sudden Cardiac Arrest Foundation has announced its support of mobile apps designed to engage CPR-trained individuals, such as PulsePoint, through a position statement recently adopted by its board and released to the public today, during Sudden Cardiac Arrest Awareness Month, an official national observance.
Sudden cardiac arrest is a life-threatening emergency that occurs when the heart unexpectedly stops beating. It strikes people of all ages—356,500 times annually—and survival depends on the quick actions of people nearby to call 911, start CPR (cardiopulmonary resuscitation) and, if available, use an AED (automated external defibrillator).
The position statement supports and encourages broader use of mobile technology to engage citizen response and increase the likelihood that CPR and AED use will be initiated before first responders arrive. It specifically cites the most widely used and highly regarded mobile app, PulsePoint Respond, which alerts CPR-trained citizens to nearby episodes of SCA that occur in a public place, directs the citizen responders to the closest AED, and provides "How-To" instructions.
For extremely time-sensitive emergencies like cardiac arrest, notifying trained individuals who are in the immediate vicinity of an event, simultaneously with the established Fire/EMS response system, offers the potential to significantly improve outcomes. Since nearly 70 percent of SCAs occur in homes, applications such as PulsePoint's Verified Responder, are now being implemented to facilitate response by nearby, off-duty professionals to private homes.
"By directly alerting CPR-trained citizens nearby, maybe in the business next door or on the floor above, PulsePoint's aim is to put the right people in the right place at the right time," said Richard Price, president of the PulsePoint Foundation. "With more than 3,300 cities now connected to PulsePoint and with more than 1.4 million app subscribers, support and guidance from the Sudden Cardiac Arrest Foundation is helpful as we both work to decrease fatalities from SCA."
"By engaging the public in a novel way, mobile technology creates a new conversation around the importance of being CPR and AED trained," says Henry Jampel, MD, MHS, chairman of the SCA Foundation Board of Directors and an SCA survivor. "Our next generation of CPR-trained citizens are app savvy, connected and willing to participate in social networks that provide opportunities to make a meaningful difference. We believe that reaching critical mass in adopting new technology, like PulsePoint, can lead to improved outcomes with the hope that survival from SCA will one day become the norm, rather than the exception."
According to the position statement, "The mission of the Sudden Cardiac Arrest Foundation is to increase awareness of, and prevent death and disability from, SCA. We believe that by using mobile technology, like PulsePoint, to simultaneously notify nearby CPR/AED-trained individuals at the same time as on-duty first responders, intervention can begin sooner in more cases, and may be of higher quality (e.g., multiple responders, off-duty professionals, etc.), ultimately increasing SCA survival rates."
The position paper goes on to state that the SCA Foundation also strongly believes that communities should maintain an accurate registry of all public AED locations. A companion app to PulsePoint Respond is one such app that can help build and maintain these registries.
About the Sudden Cardiac Arrest Foundation
The Sudden Cardiac Arrest Foundation is a national community benefit 501(c)(3) organization whose mission is to serve as an information clearinghouse and social marketing force focused on raising awareness about the prevention and treatment of sudden cardiac arrest. We are working to stimulate attitudinal and behavioral changes that will help save more lives. Specifically, we seek "To raise awareness and support programs that give 'ordinary people' the power to save a life." Learn more at sca-aware.org or contact info@sca-aware.org.
About the PulsePoint Foundation
PulsePoint is a 501(c)(3) non-profit foundation based in the San Francisco Bay Area. Through the use of location-aware mobile devices, PulsePoint is building applications that work with local public safety agencies to improve communications with citizens, empowering them to help reduce hundreds of thousands of death from sudden cardiac arrest each year. Learn more at pulsepoint.org or join the conversation at Facebook and Twitter. The free app is available for download on iTunes and Google Play.
About Sudden Cardiac Arrest
Although a heart attack can lead to sudden cardiac arrest (SCA), the two are not the same. SCA is when the heart malfunctions and suddenly stops beating unexpectedly, whereas a heart attack is when blood flow to the heart is blocked, but the heart continues to beat. Each year, more than 356,500 cardiac arrests occur outside hospitals, making it the third leading cause of death in the United States. Survival rates nationally for SCA are less than 10 percent, but delivery of CPR can sustain life until first responders arrive by maintaining vital blood flow to the heart and brain. However, only about a third of SCA victims receive bystander CPR. Without CPR, brain damage or death can occur in minutes. The average EMS response time is 12 minutes, even in urban settings; after 10 minutes there is little chance of successful resuscitation. The American Heart Association estimates that effective bystander CPR, provided immediately after SCA, can double or triple a person's chance of survival.