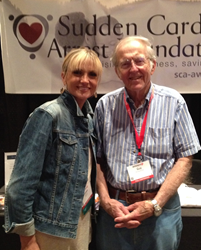 I am living proof that CPR can and does save lives. I was shocked to know that 70 percent of Americans don't know CPR. The public needs to learn CPR and recognize that doing something is better than doing nothing.
Pittsburgh, PA (PRWEB) June 30, 2014
KDKA TV news anchor (CBS Affiliate), Susan Koeppen, who serves as National Spokesperson for the Sudden Cardiac Arrest Foundation, recently shared her inspirational story as keynote speaker at the Emergency Cardiovascular Care Update in Las Vegas.
"I've worked in television for two decades and we have a phrase in TV, 'Dip to black,'" she began. "You dip to black in a story to create drama, evoke emotion, grab attention. On November 20, 2011, my world dipped to black when I suffered sudden cardiac arrest."
Susan, then 39, an avid athlete, had been training with some friends for the Pittsburgh half-marathon. Thirty minutes after leaving her front door one morning, however, she was down and out, dying on a sidewalk. She had suffered sudden unexpected cardiac arrest. No pulse. Not breathing. Her friends started screaming for help.
Susan would later learn that her heart suddenly stopped beating due to a previously diagnosed heart condition—mitral valve prolapse—combined with running and dehydration. She had been told that MVP was "no big deal." And in the weeks leading up to her event, although Susan experienced fatigue, excessive coughing that got worse with exercise, and was "always winded," no one recognized these could be warning signs. "I was a working mom of three young kids," said Susan. "Of course I was tired."
Susan attributed her survival to being at the right place at the right time. Her friends called 911. Two medical students who happened upon the scene, started CPR. Firefighters arrived quickly, continued CPR, and used a defibrillator to shock her heart back to a normal rhythm. EMS arrived a few minutes later, provided advanced life support, and transported her to the hospital, a few blocks away.
There she was treated with mild therapeutic hypothermia to preserve brain function. She subsequently received an implantable cardioverter defibrillator and was released after two weeks in the hospital. Three months later, she had open-heart surgery to repair her mitral valve.
None long afterwards, Susan was back on the job and knew that with her public persona, she had to pay it forward. "I was shocked to learn that 70 percent of Americans say they don't know CPR. Working on TV gave me the opportunity to tell my story and educate the public about the importance of learning CPR."
The message Susan tries to convey is that "Something is better than nothing." And it's working. As a result of publicity about Susan's story, several lives have already been saved.
Susan's story resounded with the CPR advocates attending the conference, a biennial meeting of the Citizen CPR Foundation. "I am living proof that CPR can and does save lives," she said. "Because someone decided to do something, I am here today. I got a chance to throw out the first pitch at a Pirates game. I ran the Pittsburgh half-marathon and finished it. And most of all, I am here to be a wife and mother."
And as she exited the stage to a standing ovation, Susan thanked Dr. Guy Knickerbocker, one of the inventors of CPR, who was seated in the front row.
About the Sudden Cardiac Arrest Foundation
The Sudden Cardiac Arrest Foundation is a national community benefit 501(c)(3) organization dedicated to raising awareness about sudden cardiac arrest and saving lives. Programs include educational campaigns for secondary schools and colleges and the Sudden Cardiac Arrest Network, an online community that provides peer support and opportunities for survivors to participate in awareness, advocacy, and research initiatives. For information, contact info(at)sca-aware(dot)org.