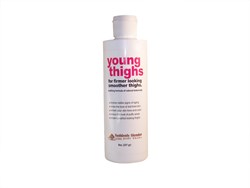 "I developed the Young Thighs Cream because, as aging takes place, the thighs tend to accumulate puffy patches, and the skin looks more dull and drab. Women need help in order to prevent or reverse skin problems in this specific area."
Tampa Bay, Florida (PRWEB) December 27, 2013
Young Thighs Cream was developed to compliment the mineral body-wrap process invented by Victoria Morton over four decades ago. Mineral wraps slenderize and sculpt the figure using tightly-wrapped stretch bandages soaked in a warm mineral-rich solution. The upper leg area has statistically proven to be a problem area for almost all women receiving wraps.
Over a decade ago, Young Thighs Cream was developed to be used in Suddenly Slender salons during the body-wrap process to heighten benefits for the skin of the thigh area. Ms. Morton found that bumpy and unsmooth areas , especially in older skin, improved greatly when Young Thighs Cream was applied prior to a mineral body-wrap. The cream became a staple in hundreds of spa locations, but until recently, was only available from shops which were licensed by Suddenly Slender.
Young Thighs Cream is now available for purchase over the internet as well as in retail locations for $24.95 per bottle.
About Suddenly Slender: The company was founded over four decades ago by Victoria Morton, who invented the mineral body wrap system. Currently the company retails its products internationally from its home office in Safety Harbor, Florida.