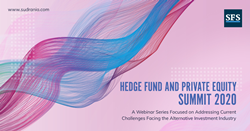 Sudrania is pleased to announce our Hedge Fund & Private Equity Summit 2020, a webinar series featuring insights and perspectives on the current trends/challenges facing funds with alternative assets.
CHICAGO (PRWEB) August 27, 2020
Sudrania Fund Services (Sudrania) announces today that they will host a Hedge Fund and Private Equity Summit focused on delivering insights and perspectives for managers and investors. The interactive, four-part webinar series will feature industry experts in areas including investment allocation, custody, legal, tax/audit, banking, and fund administration. RSVP for the series HERE
Topics to include:
Demystifying Valuation | September 23rd – 11 AM EST
Moderator: Nick Evans, Managing Editor, Hedgeweek
Panelists:

Dennis Schall, Partner, Marcum
Paul Clark, Managing Director, Houlihan Capital
Evan Stremler, Senior Due Diligence Analyst, Albourne Partners
Chris Meader, SVP, Sudrania Fund Services
Cayman Funds Regulation Update | October 7th – 11 AM EST
Moderator: Chris Meader, Founding Director, NAFAA
Panelists:

David Lloyd, Managing Director, Bell Rock Group
Kevin Fawcett, Senior Manager, Deloitte
John Klimek, Co-Founder & CEO, 4ALTS, LLC
Navigating Recent Tax Law Changes | October 28th – 11 AM EST
Moderator: Nathaniel Baker, Editor, Contrarian Investor
Panelists:

Colleen Fay, Tax Principle, Withum
Christopher Rogers, Senior Tax Partner, Capital Fund Law Group
Nilesh Sudrania, CEO, Sudrania Fund Services
For updated details about this series, visit SFS Hedge Fund and Private Equity Summit 2020.
ABOUT SUDRANIA
Sudrania Fund Services is a global fund administrator based in Chicago, Illinois who combines the robust power of cloud computing with a scalable boutique service model. Sudrania's Seamless platform is an integrated portfolio, fund, and investor accounting system with a full-scale general ledger system. Our solutions can process high-frequency trading volumes to deliver daily NAV for impact funds, hedge funds, cryptocurrency funds, commodity pools, and mortgage funds. This integrated software system is equally capable of supporting automation of capital calls/distribution and other complex calculations for private equity funds, real estate funds, and Special Purpose Vehicles. For more information, visit http://www.sudrania.com.