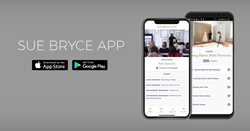 "While having anywhere access to all our classes at SBE will be a huge benefit to photographers, the app will continue to have access to me, and each other, through their mobile devices."
LOS ANGELES (PRWEB) September 05, 2018
Renowned portrait photographer Sue Bryce announced the availability of a new mobile app that will give members of SueBryceEducation.com (SBE) anywhere-access to more than 350 hours of the most comprehensive portrait photography education, including more than 250 courses, 50 behind-the-scenes photo shoots, and live broadcasts every month from their iOS and Android devices. The live broadcasts allow users to ask questions, chat and engage with Sue and photographers from around the world.
This special early release of the free app will coincide with The Portrait Masters Conference Sept 4-7 allowing SBE members to stream the conference live through the app plus give them access to hours of educational content to help hone their photo skills, learn new techniques, and literally have Sue Bryce in your pocket for quick tips about lighting, posing, and other photo techniques.
"I am so excited to provide a tool that gives photographers mobile access to the classes, tips, and tutorials available at SueBryceEducation," explains Sue Bryce. "But most importantly, it continues to give them access to me, and each other, directly from their mobile devices."
For the $35 per month subscription, or $299 annual fee, members will truly have 24/7 access to exclusive content covering all creative and business aspects of running a photography studio. And, as with desktop access to SBE, members will have direct access to Sue Bryce, mentors, and fellow students for a complete, interactive experience, regardless of their location or environment.
"Sue Bryce is one of the most respected photographers and educators in the photo industry and having access to her knowledge and teachings through the new mobile app gives new meaning to the phrase "on the job training," said George Varanakas, co-founder of Digital Product Studio, which specializes in creating digital educational products through online communities and membership sites. "The app now takes photographic learning to a new level."
About Sue Bryce
Sue Bryce is one of the most recognizable photographers in the imaging industry. Her glamour, fashion and portrait style transcend past stereotypes and has changed the face of portrait photography.
After becoming the most watched instructor on CreativeLive, Sue has created her own ground-breaking educational platform, in which she uses her signature techniques to educate photographers and empower businesses internationally. Sue's powerful education has singlehandedly helped photography businesses grow all over the world, and she is known for her unwavering support for her students. Sue was awarded the WPPI International 2014 Grand Award, Australian Portrait Photographer of the Year in 2011 and 2012, and Fellow II National Awards Photographer of the Year in 2007, to name a few.
To learn more about Sue Bryce Education, please visit https://suebryceeducation.com/.