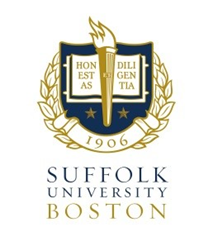 BOSTON (PRWEB) February 13, 2020
For more information, please contact:
Greg Gatlin at 617-573-8428, ggatlin@suffolk.edu
Suffolk University Included in List of "Military Friendly Schools" for 2020
Cited for support, academic policies, commitment and more
Suffolk University has been named a 2020-2021 Military Friendly School in recognition of its specialized programs for military members as well as academic initiatives, activities, and dedicated resources for veterans.
The University has a long history of welcoming returning veterans and has numerous programs in place to support student veterans financially, emotionally and academically. Suffolk joined the Yellow Ribbon G.I. Education Enhancement Program in 2009 and is one of the most generous Yellow Ribbon Program schools in Boston. Additionally Suffolk:

Waives the admission application fee for active service members and veterans
Offers Green Zone Training, which educates faculty and staff on the challenges student veterans face when transitioning from military service to becoming a student. The University currently has 130 faculty and staff members with Green Zone Training.
Provides a customized student orientation/mentoring program for military students at the undergraduate level.
Has strong community ties with area nonprofits that focus on veterans, including Four Block, which helps transitioning veterans quickly begin to have a positive impact on their communities
Suffolk University also offers the Veterans Upward Bound program to foster success.
Suffolk University goes above and beyond the Military Friendly® standard, particularly in the areas of academic policies, admission and orientation, culture and commitment, and military student support and retention, according to the Military Friendly program, which sets standards "that measure an organization's commitment, effort and success in creating sustainable and meaningful benefit for the military community."
"We are proud of our student veterans and active duty service members, and grateful for their service," said Suffolk University President Marisa Kelly. "Veterans and active duty military personnel contribute a great deal to our community, and we are focused on ensuring they have the support and services to succeed at Suffolk and reach their goals."
The Military Friendly ratings program describes itself "as an advocacy vehicle encouraging civilian organizations to invest in programs to recruit, retain and advance veterans as employees, entrepreneurs and students."
-----
Suffolk University, located in historic downtown Boston, with an international campus in Madrid, is a student-centered institution distinguished by excellence in education and scholarship. Suffolk University offers a wide range of undergraduate and graduate programs. Its mission is to empower graduates to be successful locally, regionally and globally.