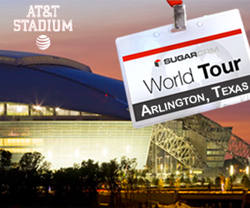 Austin, Texas (PRWEB) November 05, 2013
Epicom, a SugarCRM consulting, development and integration gold partner, today announced it will be co-hosting one of the SugarCRM World Tour events at the Dallas Cowboys Stadium. SugarCRM is the maker of the market-leading open Customer Relationship Management (CRM) platform and is traveling the world to promote its latest release, Sugar 7. Epicom will help host the event on November 7 from 8 AM to 12 PM at the AT&T Stadium in Arlington, Texas.
SugarCRM's CEO, Larry Augustin, will present Sugar's corporate overview and will be followed by a demo of Sugar 7. Attendees will get exclusive, field-level access to the Dallas Cowboys Stadium to learn how to:

Deliver a superior customer experience to every customer, every time
Stay connected with your customers from any location
Drive personalized prospect engagement to generate high quality leads
Increase profits and productivity
Streamline sales, marketing, and support across your organization
SugarCRM has already traveled to seven cities on its world tour and has several others scheduled through the end of the year. To register for the SugarCRM World Tour, visit http://www.sugarcrm.com/worldtour/
In addition to co-hosting the event in Arlington, Texas, Epicom will host a webcast on November 14 to demo Sugar 7, and discuss release dates and upgrading procedures. To register for the Sugar user group on November 14, visit: http://www.epicom.com/about/media-room/news-and-events/sugarcrm-user-group-online.
If you have any questions about the SugarCRM World Tour or about Sugar 7, visit http://www.epicom.com.
About Epicom Corporation
Epicom customizes, supports and hosts high-performance web-based Customer Relationship Management systems. Epicom has completed hundreds of successful CRM projects and is one of Sugar's leading North American Gold Partners. Our focus is on consulting and executing complex SugarCRM deployments, customizations and integrations. For more information, call 512-481-9000, visit our website at http://www.epicom.com, or follow us on Twitter @epicomcorp.
About SugarCRM
SugarCRM delivers an integrated solution that empowers every user who interacts with customers to better understand and engage their customer, so every connection drives value. SugarCRM's market-leading open Customer Relationship Management (CRM) platform delivers the agility, flexibility, and security required to equip each customer facing professional with the information and tools they need to know their customers better, do their job better, and deliver a consistent, superior customer experience across the organization, every time. SugarCRM applications have been downloaded more than 12 million times and currently help over 1.2M end users across disciplines effectively engage their customers. Over 6,500 organizations have chosen SugarCRM's On-Site and Cloud Computing services over proprietary alternatives. SugarCRM has been recognized for its customer success and product innovation by CRM Magazine, InfoWorld and Customer Interaction Solutions.
For more information, call (408) 454-6900 or 1 87 SUGARCRM toll-free in the US, email contact@sugarcrm.com, or visit http://www.sugarcrm.com. You can also connect with SugarCRM on Facebook, Twitter and YouTube.