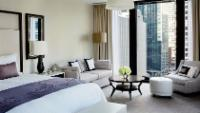 Where Space is Reimagined
NEW YORK (PRWEB) April 16, 2020
Launched April 16, 2020, Suite is a group presentation designed for entrepreneurs to view their near-sighted concepts as a long-term vision.
Suite allows new entrepreneurs the space to share fresh business ideas/concepts through a inspiring presentation with experienced presenters of various industries. Suite is good for the entrepreneur that views their ideas/concepts in one way, only to find out their mission really serves another purpose, says it's Principal Presenter, Jacob M. Smith. "The presentation includes idea/concept exploration, scaling the company, creating revenue and profits, and facilitating an exit plan." Jacob believes these presentations are successful for those open to establishing a vision for their company.
Currently offered in New York City, Suite's long-term goal is to become a recognized leader in the field of entrepreneurial development. In addition, Suite offers it's "Suite-on-Demand" service as a on-call presentation service for tourists visiting New York City. Whether pre-scheduled or last-minute arranged, Suite presenter's will visit your hotel suite to explore your business ideas/concept at half the original price.
Jacob enjoys the professional growth of budding entrepreneurs-into-confident leaders for the business worlds benefit. Called an empowered Empath (a hypersensitive person who experience a high level of compassion, consideration, and understanding towards others), Jacob M. Smith (Jay) (http://www.thejaymetaphormethod.com) is a Universal Peace Federation (Special Consultative Status with the United Nations Economic and Social Council) Peace Ambassador, Reebok Human Rights & Humanitarian Award Nominee, Emmy Award Nominee, Bronze Apple Media Award Winner, TEDx Moderator, Public Speaker, Certified Expeditionary Educator, Certified Midwest Academy Community Organizer and Founder of Tier Capital (http://www.tiercapital.net) that raised close to 10 million dollars for companies.
With his 20+ years of collective business and human development expertise, Jacob knows that ideas/concepts can improve with effort. Plus, Jacob learned that people with a growth mindset outperform those with a fixed mindset, even when they have a lower IQ, because they embrace challenges, treating them as opportunities to learn something new.
"Suite is a cool event that provides entrepreneurs with the opportunity to experience something new," says Jacob.
Contact:
Jacob M. Smith
(347)353-7535
Signup@mysuiteny.com