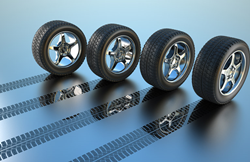 HATTIESBURG, Miss. (PRWEB) January 28, 2020
A Buick, Chevrolet and GMC dealership, Sullivan Motors also offers vehicle parts and services. Right now, the dealership is promoting its offer of tire price match guarantee, which guarantees that drivers can get a tire price match this month.
Drivers that have purchased a set of new tires at Sullivan Motors within the previous thirty days are eligible for this offer. To participate, drivers must find a better price advertised for the tires they bought. Upon showing the dealership, drivers will receive a refund of the difference between the price they paid and the advertised price. The advertisement can be a written estimate or internet quote for identical tires from any competing tire retailer that is located within one hundred miles of Sullivan Motors. The advertisement must be valid during the guarantee period. The offer ends on January 31, 2020.
Tire brands that are eligible for a price match include BFGoodrich, Bridgestone, Continental, Dunlop, Firestone, General, Goodyear, Hankook, Kelly, Michelin, Pirelli and Uniroyal.
Drivers who have recently purchased or plan on purchasing tires from Sullivan Motors soon may take advantage of this offer by printing the coupon from the dealership's website, sullivanmotorsusa.com. Bringing in the coupon and advertisement will allow them to receive the refund. More information and coupons are available on the dealership's website under the "Services" drop-down menu at the top of the site. Clicking on "Service Specials" will show customers all current incentives along with offer details.
Questions and concerns are directed to the dealership's service team. Appointments can be scheduled online.