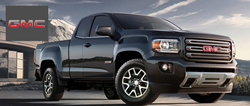 COLLINS, Miss. (PRWEB) March 15, 2019
Finding a reliable and affordable pre-owned vehicle can be stressful, but the used inventory at Sullivan Motors is full of long-lasting and reliable vehicles. Every available pre-owned vehicle on the Sullivan Motors lot has undergone thorough inspection and service to fix any lingering or hidden issues. Throughout the month of March Sullivan Motors is offering special pricing and deals on eight select used vehicles to help shoppers drive off the lot behind the wheel of their next vehicle.
Throughout March, customers can choose from eight discounted and specially priced select pre-owned vehicles, including a 2015 GMC Canyon, 2017 GMC Yukon, 2016 Cadillac SRX, 2017 Cadillac XT5, 2016 Chevrolet Colorado, 2016 Chevrolet Equinox and two 2016 Chevrolet Cruze Limited models. For a price of just $30,500 shoppers can get behind the wheel of the qualifying 2015 GMC Canyon. This four-wheel drive pickup truck is wrapped in a Quicksilver Metallic exterior and has just 73,395 miles on it.
Drivers in the market for an affordable sedan can opt for one of the qualifying 2016 Chevrolet Cruze Limited models. This 2016 sedan has just 23,165 miles on it and is available for a budget-friendly price of $14,980. The Silver Ice Metallic exterior paired with the jet-black interior is sure to turn heads everywhere this Chevrolet Cruze travels. Customers looking for an SUV option can go with the qualifying 2016 Chevrolet Equinox for just $25,980. This spacious Chevrolet offers drivers an efficient EPA-estimated fuel economy of 22 city mpg and 32 highway mpg.
Collins-area shoppers interested in learning more about these special pricing offers and more are encouraged to contact a member of the Sullivan Motors team. Individuals can visit the dealership online, http://www.sullivanmotorsusa.com, or contact the sales team by phone at 601-921-4629. Interested customers can also visit the dealership in person at 3114 Highway 49, Collins, MS 39428.