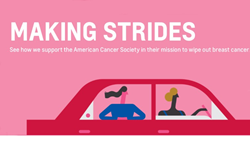 COLLINS, Miss. (PRWEB) October 16, 2019
Sullivan Motors is a dealership that specifically houses Chevrolet, Buick and GMC vehicles. The dealership has been offering new and used vehicles in the Collins area since 1971. Drivers who need a tune-up on their vehicles can also stop in the service at Sullivan Motors.
October is breast cancer awareness month and Sullivan Motors wants to help support those who are currently undergoing treatment. For nine years in a row, Chevrolet has supported the American Cancer Society Making Strides Against Breast Cancer program. Collectively, Chevrolet has contributed over $12 million to the cause.
Making a difference can be easy for anyone to do. During the month of October, Chevrolet will contribute $5 for every post on Twitter or Instagram using the hashtag #IDriveFor. The goal is $340,000.
Early detection is important. More than 250,000 people will be diagnosed this year. Regular screenings can catch any issues early on. Every dollar matters when it comes to saving lives. The American Cancer Society uses the donations to fund research, support services and screenings.
For those who would like more information can contact Sullivan Motors by calling them at 601-921-4629 or by filling out an online form on the dealership's website. The dealership is located at 3114 Highway 49 in Collins, Miss.