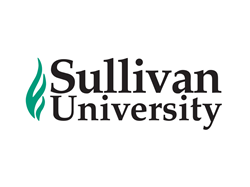 "Our programs feed into the careers that are in high demand in hiring today," said Sullivan University President and CEO Dr. Jay Marr. "While we may have to remain distant from each other, our online programs make it easy for students to start or complete their education on their terms."
LOUISVILLE, Ky. (PRWEB) June 01, 2020
As the COVID-19 virus forces campuses to close, many colleges and universities are scrambling to offer online classes.
At Sullivan University, it is business as usual.
For more than 20 years, Sullivan University has been pioneer, innovator and leader in online education, driven by a keen understanding that not everyone's life fits into an average college schedule.
"Our programs feed into the careers that are in high demand in hiring today," said Sullivan University President and CEO Dr. Jay Marr. "While we may have to remain distant from each other, our online programs make it easy for students to start or complete their education on their terms."
Sullivan's classes are offered on a convenient, 11-week schedule with four start dates each year. The upcoming summer quarter begins on June 29.
Sullivan's online programs are developed by professional instructional designers who work with faculty to develop curriculum and courses, which are offered through Blackboard, Sullivan's Learning Management System. Blackboard allows instructors to connect with students via Collaborate, a videoconferencing function that is similar to Zoom.
"Online learning is inherently flexible," said Dr. Teresa Daniel, dean of Human Resource Leadership Programs at Sullivan. "It's on your terms. Just like with courses on campus, there are weekly assignments that must be completed. But with online classes you have the flexibility to make your own schedule and get the work done when it works for you, whether that is 2 p.m. in the afternoon or in the wee hours of the morning."
Dr. Daniel, a firm believer in online education, is a recognized expert on workplace bullying and human resources and is frequently quoted in the media. She has published numerous papers and articles and has contributed chapters to several books, including most recently in "From Discord to Harmony: Making the Workplace Hum".
"We take great care to design our courses so that they contain cutting edge information," Daniel said. "We also make sure that they are facilitated by scholar-practitioners with significant real-world experience."
With that combination, Dr. Daniel said students get the best of both worlds: The theory, what is known about a topic; and the practice, which is how to apply it.
"Our online classes are always open, and our faculty will answer your questions in a timely manner," Dr. Daniel said. "Online students have full access to on-campus resources, and our library resources are available online. In addition, our faculty are highly dedicated and will always make time to set up a call when you need it."
With a current emphasis on essential workers and businesses during the pandemic, it is important to note that many of Sullivan's online programs can lead to essential careers in areas such as Justice and Public Safety and Logistics and Transportation Management.
Dr. Daniel said online learning offers students numerous benefits:

Convenience – students can learn any time of day in any location that has an Internet connection
Dedicated admissions officer and financial planning coordinator
Hard cost savings
No travel expenses
Time savings
Access to online courses, curriculum, resources, etc., 24/7 from any computer with an Internet connection
Integrates better into busy schedules
Allows busy professionals to continue their education even while holding down a job
"All it takes to get started," she said, "is a computer and access to the Internet, strong time-management skills, and the motivation to succeed."