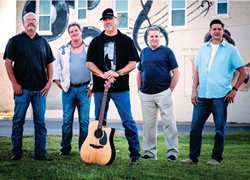 DUNCAN, Okla. (PRWEB) May 20, 2021
Chisholm Trail Arts Council is definitely ending their CTAC Live Concert Series on a positive note with the favorite local band, Summer Breeze. Come celebrate and honor Summer Breeze's 45th anniversary in the Simmons Center Theatre on June 4th! The band has been perfecting their song lineup for this concert that includes many cover band favorites, and they are also including a wonderful tribute to The Eagles.
Formed in 1976, Summer Breeze is known as one of the top cover bands in the state. The band also has had the opportunity to be the opening act for over 75 of Nashville's top recording artists. Summer Breeze's musical influences are The Eagles, Restless Heart, George Strait, and Brooks & Dunn as well as countless others. Tickets are selling pretty fast for this show, and the Chisholm Trail Arts Council is proud to have them as part of the CTAC Live Concert Series. What an awesome way to end our season… saving the best for last.
Summer Breeze is a five-member band:

Keith Woods is founder and the last original member of the band. He has been in the music business since the age of 13 and plays acoustic guitar, keyboard and vocals. Woods attributes the band's long success to hard work and listening to what the audiences want to hear and always making them feel like they are part of the show. Wood's musical influence is without question - The Eagles.
Bill Leyrer originates from the Philadelphia area where he learned multiple music styles. Leyrer was part of the Dick Clark traveling road show where he had the opportunity to back up some of the biggest rock and roll legends of the 50's and 60's. Leyrer relocated in Duncan in the early 80's joining Summer Breeze and adding a very unique sound to the group. Leyrer plays the drums and vocals.
Brian Holland plays keyboard and vocals. Brian has been with the band for over 7 years. Brian has been a worship leader and church pastor for many years and while attending college was a member of the band Red River Boys who performed locally and opened for Nashville acts.
David Adair is the newest addition to Summer Breeze and plays their lead guitar. David Adair has been a fixture on the local music scene for 40 years, since first garnering attention on guitar with a note for note rendition of Stairway To Heaven at a high school assembly in 1976. Tracer followed in 1979, then a lengthy stint with local legends Ashbury South. The early 90's saw him found Jett Rink, after returning from Dallas and a partnership with Judy Hill and Mark Plati in Judy and The Essentials. Classic rock ensemble Eclipse followed, with Shane and Mischa McClennen. Several years with Crosswind lead into an all original endeavor, Medicine Bluff, with Bruce Fennel and Gary Webb. The resulting record remains one of his proudest accomplishments.
Shane McClennen has been performing locally and regionally with different bands for many years and is considered to be one of the best guitar players to come out of this area. Together with Adair, the two will create a very dynamic duo of lead guitar players that will be sure to get the crowd's attention.
Mark Dressler returns to Summer Breeze after a brief absence as the bass player. Mark was a regular member of the band for many years and brings a wealth of talent back to the group as well as adding his vocals to the mix.
To purchase tickets, please visit CTAC online at http://www.chisholmtrailarts.com. Attendees may also purchase tickets at the Simmons Center, located at 800 Chisholm Trail Parkway in Duncan, OK. Tickets are $20.00 per adult, $15.00 per senior or military, and $10.00 per student. The show will begin at 7:30 PM on June 4, 2021 at the Simmons Center.
A special thank you to Duncan Regional Hospital for its continuous support of the Chisholm Trail Arts Council's CTAC Live Concert Series. For more ticket information, please call the CTAC office at 580-252-4160.