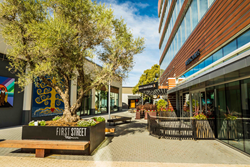 "Shopping local is one way we can all make a bit of a contribution to our larger community," said Todd Zapolski, managing partner, First Street Napa.
NAPA, Calif. (PRWEB) July 24, 2020
Three locally-owned retailers will open at First Street Napa this summer, continuing the buzz around downtown's shopping and dining hub. The new shops include C'est La Paire footwear, Tay & Grace clothing and Honey Whiskey Boutique fashions. All of the new stores will open in early August.
"Shopping local is one way we can all make a bit of a contribution to our larger community. Not only do these new shops offer a beautiful variety of merchandise chosen specifically for the Napa Valley, but they are also all locally-owned," said Todd Zapolski, managing partner, First Street Napa.
C'est La Paire, founded in 2018, has become a destination for chic, high-quality shoes, boots and handbags from Sam Edelman, Vince Camuto, Mark Jenkins, The Flexx USA and more. The much-loved store, which is relocating from Yountville, will be in Suite 358 across from Napa Valley Jewelers.
"Our goal is to bring the most exciting products to the store, and we always keep our customers in mind as we choose our lines," said Deborah Indelicato, owner, C'est La Paire. "We're looking forward to dressing the feet of fabulous locals and visitors alike."
Also relocating from Yountville is contemporary clothing store Tay & Grace. Napa Valley native Kris Ruffino founded her story nearly 20 years ago to fill a niche in the local shopping experience. Now, with the help of her adult daughter Taylor, the boutique carries a beautifully curated selection of timeless, effortless designs. Tay & Grace will be in Suite 315, across from Mayacamas.
"We are thrilled to put down new roots and continue doing what we do best - creating long-lasting relationships while we style amazing women," said Kris Ruffino, founder, Tay & Grace. "From statement pieces to classic staples, we keep our customer's wardrobes fresh and updated."
Finally, stylist and Napa native Alexis Cheyanne Macias will open Honey Whiskey Boutique next to Cupcake, filling Suite 335 with fashion-forward styles. Macias personally selects each piece in the store, with an eye toward modern youthful looks.
"We strive to continuously provide the most current trends in fashion and lifestyle products," said founder Alexis Cheyanne Macias. "As a local, I've seen how the downtown area has become such a destination over the past few years, and I think Honey Whiskey Boutique really matches that energy."
Other newly opened tenants at First Street Napa include Cupcake, I-ELLE and Milo & Friends. Copperfield's Books, the official Napa Valley Welcome Center and Spaces coworking hub will open in the fall. First Street Napa is also home to Archer Hotel Napa, Brown Estate Wines, Charlie Palmer Steak Napa, Compass Realty, Compline wine bar + restaurant, CYCLESOCIETY, Eiko's Sushi, John Anthony Family of Wines, Kalifornia Jean Bar, lululemon, Macbella, Makers Market, Mayacamas Downtown, Mecox, Milo & Friends, Napastäk Napa Valley, Napa Valley Jewelers, Overland, Silicon Valley Bank, Sky & Vine Rooftop Bar, State & First by Maris Collective, and the Wayfarer, Wade Cellars and Newfound Wines office.
About First Street Napa
First Street Napa is a 325,000-square-foot mixed-use development and artisan collective located in the heart of Downtown Napa. Spanning three city blocks, First Street Napa features space for 45 fashion and specialty retailers, innovative restaurants and wine bars, creative office locations, and Archer Hotel Napa, the tallest building in Napa Valley. First Street Napa's distinctive retail, agrarian landscaping, approachable dining, and wine country charm make this destination unmistakably Napa. The local community and visitors alike are invited to experience this welcoming reimagination of the historic downtown corridor. For more information, please visit http://www.firststreetnapa.com and follow along @FirstStreetNapa on Facebook, Instagram and Twitter.