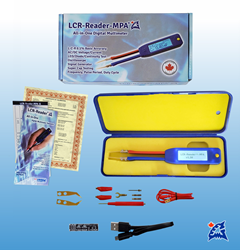 Siborg is offering up to 30% on different test equipment and accessories until August 31st, 2020.
WATERLOO, Ontario (PRWEB) August 05, 2020
Siborg Systems Inc. is hosting a sale on their online store and other sales channels. The sale will include LCR-Reader-MPA devices, including the base model, MPA BT with Bluetooth and MPAL Low Frequency, LCR-Reader models, and Smart Tweezers multimeters, including the bluetooth model ST5S-BT.
Siborg offers testing and debugging tools for Surface Mount Technology that combine a powerful multimeter with a set of tweezer probes. LCR-Reader has become Siborg's best selling device since its release in 2014. The 1 oz. device has a 0.5% basic accuracy and is able to identify components and select the best test parameters before testing. All of Siborg's devices come with sharp, gold-plated tweezer tips that can hold components up to 0204 size.
Siborg offers a wide range of test devices for Surface Mount Technology; their design combines a set of tweezer probes built into a compact yet powerful multimeter. The LCR-Reader line of devices has significantly grown since its debut in 2014. Each device is able to identify components and determine the best test parameters to use to provide high accuracy results. Users aren't required to set-up measurements between components and can grasp and hold components without the use of long wire leads. The flagship device, the LCR-Reader is able to test with 0.5% basic accuracy, but users are only able to change the test mode.
The LCR-Reader-MPA has the widest range of features and the highest basic accuracy at 0.1%. The MPA's features include voltage/current measurement, diode/LED test, oscilloscope mode, frequency meter, Super Cap testing up to 680 mF, pulse counting, AC/DC voltage measurements, and more. One of the main features of the MPA is the ability to test components using a 100 kHz test frequency that allows for 1 nH resolution and a 0.01 pF resolution for capacitance.
There are 3 different models of MPA available; the base model, a low-frequency model and the Bluetooth model. The low-frequency model has less test frequencies, ranging from 100 Hz to 10 kHz. The Bluetooth enabled model allows users to remotely record measurement values in real-time using PC or Android. These values can be saved into a database or file for later analysis. Users are also able to set profiles that grant a pass or fail to the component depending on if it meets the parameters set.
Features on LCR-Reader-MPA:

0.1% basic accuracy
LCR/ESR, LED/Diode testing
3 signal test levels of 0.1, 0.5, and 1.0 Vrms
Easy open/short calibration
100 kHz test signal level
Large and Super Large Capacitance testing up to 640 mF
Oscilloscope mode
NIST Traceable calibration certificate (available for LCR-Reader-MPA Pro, Smart Tweezers and LCR-Reader-Pro)
The Smart Tweezers device is the basis for all other tweezer-meters. The Smart Tweezers ST-5S has a 0.2% basic accuracy, fully automatic testing for LCR/ESR, Diode polarity/short testing and more. There is a Bluetooth enabled model of Smart Tweezers also available that, much like LCR-Reader-MPA BT, is able to remotely record values and offers the same testing profiles.
Siborg's up to 30% discount sale is starting August 10 and ending August 31st at 11:59 PM EST on the LCR-Reader Store, and Siborg's sales channels in Europe and North America
Some discounts will also be offered by our international representatives:
China
AI-ROX Polytronics (Shenzhen) Co., Ltd
Tongtai Times Square, Fuhai Street, Baoan District, Shenzhen, 518100
Weifang Co.
Rm 403, Building 1, No.1566 Yinfeng Road, Weifang, Shandong, 261000
Phone:8618606367927
USA
Bokar International
650 Scranton Pocono Hwy, Covington Twp., PA, 18444
Phone:(570) 842-2812
Fax:(570)842-4290
Japan
Van Device Co.Ltd
Yubinbango 9-10 Studio Nihonbashi, Building 202, Nihonbashi, Chuo-ku, Tokyo boat-cho, 103-2204
Phone:+81-03-5652-2888
Fax:+81-03-5652-2889
Newly Tsuchiyama Co. Ltd. East Japan Operations
Lions Building Musashikosugi 204, 915-8 Shin-Maruko-cho, Nakahara-ju, Kawasaki-shi, Kanagawa-ken, 211-0005
Phone:+81-44-738-6870
Fax:+81-44-738-6815
Russia
SPE Group
4a Inzhenernaya Street, Suite 212
Novosibirsk
Phone:(383) 330-82-95
E-mail: fedorov (at) spegroup (dot) ru
Sanata-Tech
22 Zvenigorodskaya Street, Unit 051, Saint Petersburg
Phone:+7 (812) 983-94-50, +7 (812) 917-85-84
Fax:+7 (812) 712-34-00
India
Advance Tech Services
709-710, DT-ITL Towers, B-8, Netaji Subhash Place, Pitampura, New Delhi, 110034
Phone:+91-11-47002024
Fax:+91-11-47002029
Indonesia
CV. KT. International
Klomplek Dian Centre, Blok C. No.12, Nagoya Batam
Phone:(62)778 432976/ 778 432986 / 812 7027699
Fax:(62)778 422731
Malaysia
CF System technology Sdn Bhd
No. 43 & Jalan Section 1-28, Taman Kajang Utama, Kajan Selangor Darul Ehsan, 43000
Phone: 603-87405207
Fax:603-87374986
Lithuania
Lokmita
Taikos 141, Kaunas LT-51132
Phone: +370 37 351 729
Fax: +370 37 351 729
Netherlands
PrintTec b.v.
De Aaldor 32, 4191 PC Geldermalsen
Phone:+31-(0)-345-745911
Fax:+31-(0)-345-745910
Vietnam
V-Proud Joint Stock Company
No.62-Alley 8-11-36, Le Quang Dao Street, Phy Do Ward, Nam Tu Liem District, Hanoi
Phone:+84 4 3224 2295
Fax:+84 4 3224 2297
LIDIN Co., Ltd.
487 Cong Hoa Street, Ward 15
Tan Binh District, Ho Chi Minh City
VietNam 700000
Tel. +84-28-36016797
Indochina Equipment and Accessories Joint Stock Company
No.1-LK6B, MoLau Urban, HaDong Dist., Hanoi
Phone:(+84) 4-7-303-566
Fax:(+84) 4-7-303-4666