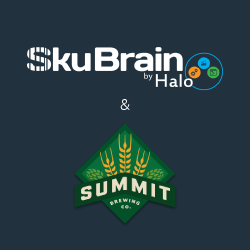 We're producing more accurate forecasts with SkuBrain and therefore making better decisions with far less manual work.
(PRWEB) August 24, 2017
Halo, a leading provider of data integration and analytics software for supply chain planning, announced today that Summit Brewing Company has licensed Halo's SkuBrain solution to automatically import VIP depletions and improve the speed and accuracy of the brewery's sales and production forecasting. SkuBrain delivers demand forecasting, inventory optimization, and replenishment planning for small to mid-size beverage suppliers and distributors.
Summit's 100+ employees work in a multifaceted facility on a 6-acre campus in St. Paul, Minn. The brewery shipped approximately 120,000 barrels in 2016, primarily to Midwestern states. Summit's operations and sales executives wanted to implement a simple forecasting system that would account for key market variables and save time. Summit chose SkuBrain based on strong internal consensus and the platform's ability to quickly deliver a positive return on investment.
"Summit had reached the point where automated and more accurate forecasting was essential for the next phase of profitable growth, but to build broad-based internal enthusiasm they decided to start with modest-yet-meaningful goals and demonstrate quick success. SkuBrain was the perfect choice," said Keith Peterson, President and CEO, Halo.
With SkuBrain in place, Summit can now automate the intake of VIP depletion data feeds and quickly adjust forecasts based on promotional activity.
"We couldn't run this business 'in our heads' any longer. SkuBrain is the perfect starting point for Summit. We're producing more accurate forecasts and therefore making better decisions with far less manual work," said Stuart Johnson, Director of Planning, Fulfillment and Systems, Summit Brewing Company.
About Halo
Halo is an analytics software and advisory services provider which offers customers an innovative blend of technology to manage demand forecasts, inventory and supplier relationships. Halo's Advanced Information Hub is a first-of-its kind solution to help companies leverage all their corporate data to generate new insight for competitive advantage. Halo is headquartered in San Diego, California, and can be reached via the web (halobev.com), Twitter (@Halo_BI) or email at info(at)halobi(dot)com