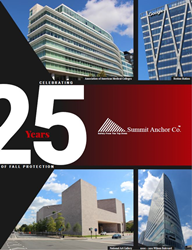 "As we celebrate 25 years in business, we could not have accomplished this without our hard working and dedicated employees at Summit Anchor." - Karol Longo, Purchasing/Production Manager, Summit Anchor Company
FREDERICK, Md. (PRWEB) November 29, 2021
"Don't Hold Your Breath."
One single steel hook affixed to a brick parapet. That was all the 12-story building offered Gus Strats to attach his rope descent system to before he climbed over the parapet to clean the windows. Strats agonized over going ahead with the work, one of his semiannual window cleaning contracts, without safe anchorages to which to secure his ropes.
After several meetings and conversations with the building's management team, including the safety manager, they agreed to add fall protection measures. But when Strats asked the safety manager when it would happen, his response was: "Don't hold your breath." Soon after that Strats decided that cleaning windows in unsafe conditions wasn't worth risking his life.
That was the trigger point for the founding of Summit Anchor Company. Summit Anchor, a leading fall protection provider, celebrates its 25th year in business with its same core value intact: respect for life. With over a thousand major projects under its belt and several accomplishments under its wings, Summit Anchor reflects on its stellar reputation as a designer, manufacturer and installer of the best anchors and fall protection systems in the industry.
With an eye toward expansion and growth, Summit Anchor seeks to offer more to its clients while still maintaining its roots as a company that protects workers at height, such as window washers, suspended maintenance workers, and rooftop landscapers.
What started as an interest in protecting his own life while washing windows led to also thinking of how others should be protected when working from heights. "Window cleaning was adventurous at first, but I grew to understand respect for life," Strats said.
In the mid to late 1990s a few building managers agreed to retrofit and install certified anchorages even while not required to do so by the Occupational Safety and Health Administration. A Director of Administration at The Washington Post building at 1150 15th Street in Washington, D.C., for instance, agreed to add the anchorages, Strats said. The Post manager later thanked Strats for the anchorages after contractors who were suspended from them were saved after their swing stage upset, tipping the workers at an angle but saving them from a fall.
"To this day I am thankful to the Post for allowing me to learn how to design and install anchorages on their three-building complex at 1150 15th and L Street", Strats said. "The Post's Director of Administration, George Wathen, afforded me the space, environment and help from their maintenance staff to learn valuable lessons about anchor design and installation that benefit me and the company to this day."
Still some building managers then and now fail to take appropriate height safety precautions, Strats said.
Summit Anchor has come a long way from trying to convince most of their customers that fall protection is necessary. Vice President Raiff Margerum said one of Summit Anchor's biggest hurdles was helping property managers and building owners recognize the need for anchors and other fall protection measures. Summit Anchor has kept its emphasis on the ideal of respect for life. "If our actions have any bearing on other people, we will protect their life and safety above all else," Margerum said.
In more recent years, however, with OSHA's Subpart D walking-working surfaces in place since 2017, property managers and building owners realize they must meet the standard's requirements.
This has led to some notable projects over the years for Summit Anchor, including:

George Washington University,
Anchorages for fall protection on the roof and rope descent system on 10 legacy GWU buildings in additional to recently constructed GWU Science and Engineering Building, Washington, D.C.
Anchorages for fall protection on the roof and fall protection equipment for interior space, Washington, D.C.
1000 - 1100 Wilson Boulevard,
Davits and anchorages packages - 1000 Wilson Boulevard, Arlington, Virginia
Davits, anchorage, and horizontal lifeline, walk-through ladder rungs, and weather camera mount for Channel 7, 1100 Wilson Boulevard, Arlington, Virginia
Davits for swing stage operations with anchorage and horizontal lifeline, Athens, Greece
Davits, anchorages, and monorail package, Bethesda, Maryland
Anchor retrofit package for 24 buildings in Washington D.C. and Reston, Virginia and consulted on several new buildings.
Davits, anchorages, and Intermediate Stabilization Anchors package, Reston, Virginia
Association of American Medical Colleges,
Davits, anchorage, and outrigger package, Washington D.C.
Rooftop anchorages package on new buildings, Baltimore, Maryland
Tyson Central-Owner: Foulger Pratt. Davits, anchorages, and Intermediate Stabilization Anchors package, Tysons Corner, Virginia
Anchorages, davits, and horizontal cable systems for fall protection and davit system for suspended access
Carr Properties, Fannie Mae Headquarters, *1150 15th and L Street, Washington, D.C
*The Midtown Center replaced the Washington Post Headquarters buildings in 2017 that were mentioned above.
Since its start in 1996, Summit has grown and solidified its place with several accomplishments along the way:
2000: Gus Strats is elected to the ANSI/IWCA I.14 Window Cleaning Safety Standard Committee as a voting member.
2004: Summit Anchor begins manufacturing anchors with their trademark forged eye capable of sustaining a 5,000 lbs. test load without deformation.
2007: Summit Anchor begins development of its davit portfolio, including ground rigged and roof rigged davits.
2017: Gus Strats is elected to serve on the ASME A120 Powered Platform and Gantry Safety Standard committee.
2018: Three Summit Anchor staff members become competent person trainers for fall protection; three others become competent persons for fall protection by 3M.
New Beginning
Starting in the late 1990s, Strats and his wife Agata began running Summit Anchor from their townhome. Agata covered administrative duties, joined by a full-time salesperson, a part-time designer, and four other employees. The business took over their home, said Agata. Sometimes she was in one room doing laundry while employees were working nearby.
"My home was not my home anymore," she said.
But Agata said she was all in with Gus's idea to start a rooftop anchor installation business. "I thought it was a smart idea," Agata said. "I knew Gus wasn't going to be able to clean windows into his 50s." In 2006, the Strats moved Summit Anchor from their home to its headquarters in Frederick, Maryland. Now the company has grown to 23 employees.
From design and consultation, to installation, testing and certification, Summit Anchor ensures that architects, engineers, facility managers and owners comply with OSHA requirements for building fall protection systems used by window cleaners and other suspended maintenance workers. Summit Anchor is known for its rooftop anchors – drop forged, quenched and tempered and able to withstand 5,000 pounds without adverse effects.
Jim Giuffreda, who joined Summit Anchor in 2004, said that company challenges have included keeping pace with increased business flow, hiring qualified employees, and helping customers see the value in Summit Anchor's height safety plans and products. "Some clients tend to focus on price instead of quality of the fall protection design, system and products", he said.
"The lowest bidder is not always the best solution for their needs," Giuffreda added.
Last year, despite the raging pandemic, Summit Anchor was still able to make strides: It added safety hatch guards (see Fig. 1: safety hatch guards), safety walkthrough ladders (see Fig. 2: walk-through ladders) and safety grating (see Fig. 3: safety non-slip grating) to its product suite. Another accomplishment: Longtime employee Daniel Mensah became an Associate Welding Inspector.
SUMMIT SNAPSHOT: Summit Anchor Company employee Daniel Mensah eyes its future
"It's really these incremental successes that all add up to where we are today," Gus Strats said.
Moving Forward Toward the Future
While Summit Anchor aims to be the preferred fall protection choice in the Washington, DC metropolitan region and surrounding area, the company is expanding its reach to the western U.S. Other future company goals include:

Doubling manufacturing capacity.
Staying ahead of our customer's needs while keeping an eye on their budgets with fall protection solutions such as our newly redesigned davit socket - simpler and easier to use, reducing davit assembly cost.
Keeping education in the forefont so that customers and industry stakeholders come away with the tools and know how on safety.
Continuing the training of skilled installation and testing technicians. For instance, training of several field and shop workers to become qualified welders. A large majority of our work force have already completed Fall Protection Competent Person Training.
As Summit Anchor moves toward the future, its core value remains the same: Respect for life. The company's people, products and projects have pushed it to new heights, each step paving the way to a brighter tomorrow.
About Summit Anchor Company
For 25 years, Summit Anchor has provided superior fall protection systems and suspended maintenance equipment solutions. The company offers a single source contact for design, engineering, manufacturing, installation, testing and certification of suspended access and fall protection systems. Summit Anchor's innovative solutions are used extensively by high-rise window cleaners and other suspended maintenance providers.
"As we celebrate 25 years in business, we could not have accomplished this without our hard working and dedicated employees at Summit Anchor. Our loyal customers have also played a role in our success and for their trust in us, we thank you and look forward to working with you for years to come." - Karol Longo, Purchasing/Production Manager
"What I began as a part-time, one-man window cleaning business in 1988 has grown into a fall protection company with 23 employees. After nearly three decades, the impelling force driving our mission and growth has remained the same – respect for life. Day by day, I am grateful to work with a team of professionals who value our fundamental mission." - Gus Strats, CEO/President, Summit Anchor Co., Inc. August 12, 2021.