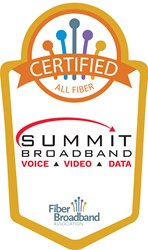 ORLANDO, Fla. (PRWEB) August 14, 2019
"Communities all over the country are becoming more aware of how important and effective fiber networks are," said Lisa Youngers, President and CEO of the Fiber Broadband Association. "This certification program is designed to help all-fiber network operator members highlight the critical work they are doing to bring all-fiber connectivity to those they serve. It's a way to identify those who are truly bringing the best internet and digital services to their communities."
"We are proud to be recognized by the Fiber Broadband Association as one of the first All-Fiber Certified service providers," said Florencio Bulanhagui, Vice President of Engineering at Summit Broadband. "We continuously work to meet our customers' ever-changing needs. This one-of-its-kind certification demonstrates our commitment to building a better, more connected broadband future."
About Summit Broadband
Summit Broadband is a leading fiber-optics telecommunications provider in Central and Southwest Florida. We provide voice, video, data, and high-speed internet services to commercial and residential customers, as well as ethernet and dark fiber transport to enterprise and carrier customers. Providing a superior customer service experience since 1994, we own and operate our own fiber-optic networks, with a reach of more than 1,800 fiber route miles, serving multiple industries and communities throughout our territory. For more information, visit our website at http://www.summit-broadband.com.
About the Fiber Broadband Association
The Fiber Broadband Association is the largest and only trade association in the Americas dedicated to the pursuit of all- fiber-optic network infrastructure to the home, to the business and to everywhere. The Fiber Broadband Association helps providers make informed decisions about how, where, and why to build better broadband networks with fiber optics while working with its members to lead the organization forward, collaborate with industry allies and propel the deployment of fiber networks. Since 2001, these companies, organizations and members have worked with communities and consumers in mind to build a better broadband future here and around the world. Learn more at fiberbroadband.org.
About the All-Fiber Certification
Certified all-fiber service providers are network operator members of the Fiber Broadband Association with confirmed
90% or higher fiber networks, and an exhibited high-level commitment to fiber deployment. With this certification,
qualifying providers will be able to show their communities and customers that they are deploying fiber to deliver the
best Internet and digital services.