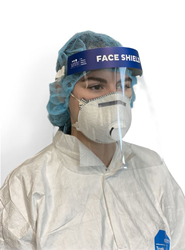 Our team's innovative design and dedication to meet the urgent demand to protect health care workers as well as employees returning to the workplace has been outstanding.
ST. PAUL, Minn. (PRWEB) May 21, 2020
Summit Medical, an Innovia Medical company, a medical device manufacturer, announces its first milestone to deliver over one million FDA-compliant face shields — designed, engineered and manufactured in the United States in just eight weeks. Summit Medical Face Shields meet the critical need for personal protective equipment (PPE) for both front-line health care workers and returning business employees to limit the spread of COVID-19 as the country reopens.
As the demand for the company's elective surgical products declined with the onset of the coronavirus, Summit Medical's successful pivot to manufacture face shields has also met a critical economic need to protect its 65 employees with job security.
"Our team's innovative design and dedication to meet the urgent demand to protect health care workers as well as employees returning to the workplace has been outstanding," said Kevin McIntosh, President of Summit Medical. McIntosh mitigated employee losses by cross-training staff to assemble face shields. "Every staff member has been involved in production and is working overtime, including weekends, to make it possible to deliver face shields with quality and speed."
Unlike masks, Summit Medical's Face Shields protect all facial mucous membranes — including the eyes — from splashes, sprays, droplets and fine aerosol contamination of the coronavirus. Easy to see through and breathe in, the clear plastic shield enables full-face coverage (9 inches long). In addition, shields are usually more comfortable to wear than masks and they form a barrier that keeps people from easily touching their own faces.
"Our engineering team adjusted an open-source design from Maker Space at the University of Wisconsin-Madison to meet requirements for Summit Medical's Face Shields to be registered and sold as a medical device," said Tim Butina, Summit Medical's Engineering & Operations Manager. "More importantly, we did extensive research and testing of materials to ensure Summit Medical was providing a high quality, safe product."
The Need for Face Shields Beyond Health Care
As businesses reopen and adopt new COVID-19 protocols, the effectiveness of face shields in health care demonstrates their utility to protect workers in other industries. "As we continue to supply the health care community, Summit Medical's Face Shields also offers a cost-effective way to protect employees returning to the office, sales floor, warehouse or industrial production floor," said McIntosh.
"I've been searching for an answer for my production staff that was functional and provides protection from the COVID-19 virus," said Todd Wiles, Director of Operations at Water Control Corporation in Ramsey, Minn. "My staff has been wearing Summit Medical's Face Shields for over a week now and report they are very comfortable."
Face shields enable full visibility of the face and mouth — a particular advantage for service industries with staff who directly interact with customers such as retail stores and restaurants. Businesses also can tap Summit Medical's expertise working with OEM customers to quickly brand face shields with their own corporate logos.
"We require all of our employees to wear some type of protective face cover. Most work in an environment where the temperature is elevated at best," said Shelli Raes, Office Manager for Bob's Produce Ranch in Fridley, Minn. "Summit Medical's Face Shields help to keep employees cooler than a face mask." In addition, when speaking, people sometimes pull down a mask to communicate better, but that isn't necessary with a facial shield, as a clear shield allows for visibility of facial expressions and lip movement for speech perception.
Leveraging Minnesota Innovation in the UK
Beyond his leadership for Summit Medical's home office in Minnesota, McIntosh coordinated supply networks for production of its face shields at Summit Medical's sister companies under the Innovia Medical umbrella at Eagle Labs in Rancho Cucamonga, Calif. Innovia also leveraged Summit Medical's face shield design for production at Innovia's facilities in the United Kingdom, where they are producing over 1.3 million Innovia Face Visors to protect front-line health care workers in UK's National Health System.
Summit Medical's Quality and Regulatory team is currently pursuing a CE for the face shields. This would allow Summit Medical to support customer demand in Europe and beyond.
"The health care community has endured untenable delays in securing face shields and other critical PPE due, in part, to components sourced in China," McIntosh said. "Manufacturing certified, quality face shields with speed and efficiency has been a guiding priority," McIntosh said. "And unlike others selling unregulated face shields during this limited period of relaxed standards, Summit Medical is an FDA registered medical manufacturer that will sustain its capabilities to meet the continued demand."
About Summit Medical, an Innovia Medical Company
Summit Medical, an Innovia Medical Company, is a medical device manufacturer located in St. Paul, Minn. Founded in 1982, the company has been serving the global healthcare community for over 30 years. Summit Medical is dedicated to staying on top of industry demands and developing the solutions to meet them throughout all the stages of design, engineering and manufacturing. Innovia Medical combines the experience and expertise of Summit Medical, Network Medical Products, Eagle Labs and DTR Medical to help our medical professional partners elevate the delivery of care to improve patient outcomes. For more information about Summit Medical and Innovia Medical visit http://www.innoviamedical.com.