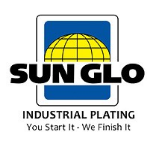 CLEARWATER, Fla. (PRWEB) December 03, 2018
Representatives with Clearwater, Florida-based Sun Glo Plating Company, announced today that the company is now offering chromic acid anodizing services.
Dave Brackenhamer, director of business development and spokesman for Sun-Glo Plating Company, explained that Type I is known as Chromic Acid Anodizing.
According to Brackenhamer, it offers an exceptional thin corrosion resistant coating that ranges in thickness from 0.00005" to 0.0002".
"This process is less corrosive than Type II and therefore making it safer to use on critical components where acid could perhaps become lodged in a seam or weld that could then compromise the integrity of the finished product," Brackenhamer said, before adding, "Chromic Acid Anodize appears much grayer in color and being a thinner coating absorbs less dye. This limits the Chromic Anodize as a decorative finish."
Some benefits of Type I Anodizing services are that it doesn't conduct electricity, it provides improved adhesion with no dimensional change and can be dyed black.
As to why anyone should consider Sun-Glo's Type I Anodizing services, Brackenhamer pointed to the fact that the company has more than 32 years of experience providing expert advice for both small and industrial sized clients. In addition to that, its team brings decades of experience in delivering a quality product for our clients.
When it comes to the company's chromic acid anodizing services it's now offering, Brackenhamer stressed that "this is the go-to for many components that are used in the aerospace industry, precision machining or parts that undergo a lot of flexing. It also provides for higher fatigue resistance over other anodizing processes. In contrast though it can tend to be softer and less porous than Type II and Type III."
For more information, please visit http://www.sun-glo.com/services/ and http://www.sun-glo.com/about
About Sun Glo Plating Company
Working in partnership with our customers, we continue to add services, increase capacity, refine procedures and improve quality. This commitment has allowed for unprecedented growth and to gain a reputation as one of the nation's leading finishers. There is much more to plating than "dipping and shipping." We have over 30 years' experience providing expert advice for both small and industrial sized clients.
Media Contact:
Dave Brackenhamer
14493 62nd St N,
Clearwater, FL 33760, USA
Phone: 800-741-1456
Source: Sun Glo Plating Company