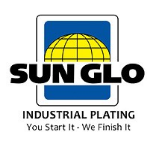 CLEARWATER, Fla. (PRWEB) January 09, 2019
Representatives with Clearwater, Florida-based Sun Glo Plating Company, announced today that the company is now offering Type II Anodizing Services.
"Type II, Sulfuric gold anodizing type ii Acid Anodizing, is the most common method for anodizing," said Dave Brackenhamer, director of business development and spokesman for Sun-Glo Plating Company.
Brackenhamer went on to explain that Type II Anodizing provides a thicker coating from 0.0002" to 0.0012".
"The overall thickness is 67 percent penetration and 33 percent growth over original dimensions and making it very suitable for color dyes," Brackenhamer said.
Brackenhamer went on to note that some popular uses of Type II Anodizing Services are: military applications, architectural materials, optical components, sporting goods, and computer enclosures.
Because of its easier waste treatment, lower energy consumption and time to obtain thickness Type II reduces the end product cost. A non-reflective matte finish can also be achieved through chemical or mechanical treatment.
"We invite anyone in need of Type II Anodizing services or have questions about the process and the benefits, to contact us," Brackenhamer said.
For more information, please visit http://www.sun-glo.com/services and https://sun-glo.com/about
About Sun Glo Plating Company
Working in partnership with our customers, we continue to add services, increase capacity, refine procedures and improve quality. This commitment has allowed for unprecedented growth and to gain a reputation as one of the nation's leading finishers. There is much more to plating than "dipping and shipping." We have over 30 years' experience providing expert advice for both small and industrial sized clients.
Media Contact:
Dave Brackenhamer
14493 62nd St N,
Clearwater, FL 33760, USA
Phone: 800-741-1456
Source: Sun Glo Plating Company