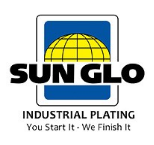 CLEARWATER, Fla. (PRWEB) November 13, 2018
Representatives with Clearwater, Florida-based Sun Glo Plating Company, announced today that the company is now offering vapor degreasing services.
Dave Brackenhamer, director of business development and spokesman for Sun-Glo Plating Company, explained that vapor degreasing is achieved by suspending a metal part in a heated solvent to a vapor.
"The vapor then condenses on the part and dissolves the greases and debris from the surface," Brackenhamer said, before adding, "There is no scrubbing or water involved in the vapor degreasing process."
Some benefits of vapor degreasing are: economical, short turnaround time, and no oxidation.
As to why anyone should consider Sun-Glo's vapor degreasing services, Brackenhamer pointed to the fact that the company has more than 32 years of experience providing expert advice for both small and industrial sized clients. In addition to that, its team brings decades of experience in delivering a quality product for our clients.
"Our team ensures your products are best in class, meets all the required specifications and are held to the highest standards," Brackenhamer said. "From coating to plating and cleaning to polishing, we offer a wide range of metal finishing services. Employing an on-site chemist and rigid quality control standards allow for you to be confident in the end product. Combine this with state of the art automation and technology and your job will be delivered on time."
For more information, please visit http://www.sun-glo.com/services and https://sun-glo.com/about/
About Sun Glo Plating Company
Working in partnership with our customers, we continue to add services, increase capacity, refine procedures and improve quality. This commitment has allowed for unprecedented growth and to gain a reputation as one of the nation's leading finishers. There is much more to plating than "dipping and shipping." We have over 30 years' experience providing expert advice for both small and industrial sized clients.
Media Contact:
Dave Brackenhamer
14493 62nd St N,
Clearwater, FL 33760, USA
Phone: 800-741-1456
Source: Sun Glo Plating Company