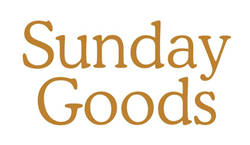 LOS ANGELES (PRWEB) September 18, 2019
Sunday Goods, the sun-grown cannabis brand established in both Arizona and California with best-in-class experiences for the modern cannabis consumer, today announced its new relationship with Kiva Sales and Service, the licensed sales and distribution arm of the well-recognized cannabis-infused edible brand. Through the partnership, made public at the Hall of Flowers cannabis trade show in Santa Rosa, Sunday Goods will expand its brand presence to more than 500 dispensaries throughout the state of California.
Today's announcement comes less than a year after Sunday Goods made its debut in California and continued to increase its footprint through new product releases including the highly anticipated effect-based pen launch in April 2019. The partnership is a further example of Kiva Sales and Service's commitment to providing innovators who share common core values and commitment to quality with a direct path to market.
Distribution through Kiva Sales and Service will take place immediately, providing Sunday Goods product to dispensaries statewide.
For more information on Sunday Goods, please visit http://www.sundaygoods.com and follow along on Instagram and Facebook.
About Sunday Goods
Sunday Goods, named one of Entrepreneur Magazine's 100 Cannabis Leaders in 2018, was created with the intention of helping people Feel Good™ by finding a cannabis experience that's just right for them. With high quality products spanning flower, edibles, pre-rolls, topicals, oils and effects-based pens, Sunday Goods uses all-natural methods to respect and preserve the qualities of the original plant. The Sunday Goods commitment to precise consistency delivers products that put the consumers' needs above all. Sunday Goods has developed a collection of products that respect the unique relationships between cannabis and the individual. Sunday Goods is available at select dispensaries in Southern and Northern California as well as Arizona. To learn more, visit http://www.sundaygoods.com.
About Kiva Confections
Founded in 2010 by Scott Palmer and Kristi Knoblich, Kiva is the leading brand of artisanal cannabis-infused edibles in California. Recognized as an industry innovator, Kiva has been operating its own wholesale operations network since its inception. Kiva operates with the highest level of professionalism and logistics services. Kiva is committed to distribution as a sales and service first organization, with a priority to support both our retail customers and their valued consumers. Kiva Sales & Service is an industry incubator, focusing on building brands and providing innovators a path to market. Kiva selects only partners who share common core values, the highest level of product quality, and a commitment to the cannabis industry. Partner brand access to the Kiva Sales & Service halo allows access to the largest cannabis industry in the world, removing many common barriers of entry that brands would encounter on their own or with other distribution partners. To learn more, visit http://www.kivaconfections.com.