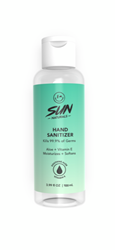 We've got you covered with our on the go! - Travel Size Hand Sanitizer.
LOS ANGELES (PRWEB) September 21, 2020
We've got You Covered!
In these unprecedented times, Sun Naturals Skincare has focused 100% of its resources on the production of our FDA compliant Travel Size Hand Sanitizer with Aloe Vera, moisturizing Vitamin E and Essential Oils. At this time it's our mission to reach as many people as possible by direct shipping to our community's doorstep through our online store http://www.naturalsunscreen.com or http://www.sunnaturals.co
Sun Naturals Travel Size Hand Sanitizer cleans hands on the go, leaving them refreshed and moisturized! Our hand sanitizer kills 99.9% of most common germs. You simply place on your hands, then rub together until dry.
Sun Natural's Travel Size Hand sanitizer is used to help reduce bacteria that potentially can cause disease.
Moisturizing Aloe Vera + Vitamin E and Essential Oils formulation.
Alcohol Antiseptic 80% Topical Solution.
FDA Compliant.
Distributed in the USA. Ships in 1-2 days direct to your doorstep.
Price $3 - 100 ml/3.4 fl oz each.
Visit Sun Naturals online store http://www.sunnaturals.co or http://www.naturalsunscreen.com
For Business, Retail and Distribution partnerships please connect directly.
About Sun Naturals Skincare:
Health/ Beauty.
High Performance Natural Sunscreen and Skincare products developed to be Eco - Friendly and Reef Safe. For Adventurous Individuals and Active Families.
Follow us on Instagram @sunnaturals and on Facebook.