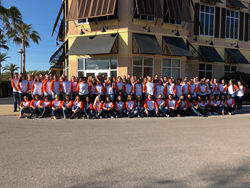 For three decades we have been dedicated to a high quality of service that focuses on improving the lives of others
TAMPA, Fla. (PRWEB) March 07, 2019
Sunbelt Staffing, a leading provider of specialty healthcare and education staffing services, today announced it is celebrating 30 years of connecting the nation's top talent with outstanding schools and healthcare facilities. Since its inception, Sunbelt Staffing has expanded from only providing local services to now providing top healthcare and education talent nation-wide.
"We are excited to celebrate this important milestone. For three decades we have been dedicated to a high quality of service that focuses on improving the lives of others," said Howard Gerber, senior vice president at Sunbelt Staffing. "We are dedicated to putting healthcare and educational professionals in communities and work environments that offer more than just excellent pay and benefits – it's about making a difference. I am privileged to be part of a team that has this kind of focus."
Sunbelt Staffing's efforts extend beyond connecting people with exciting career opportunities. Through its Sunbelt Cares initiative, colleagues across the organization are encouraged to invest time in their communities, supporting a variety of environmental and social causes. This passion to contribute and make a positive impact is a cornerstone of the culture at Sunbelt Staffing and speaks to its devoted team of experts, who continue to push the company to new heights.
For career and workforce resources, visit sunbeltstaffing.com or follow @sunbeltstaffing on Facebook and Twitter.
About Sunbelt Staffing
Sunbelt Staffing, headquartered in Tampa, FL, is a healthcare and educational staffing company and has been connecting professionals to healthcare facilities and schools nationwide for 30 years. It offers travel, per diem, and permanent placements in nursing, therapy, advanced practice, and schools. To learn more about Sunbelt Staffing, please visit sunbeltstaffing.com.