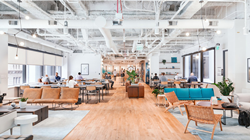 I'm excited about this next chapter for Sunbelt, it's employees and the community.
TAMPA, Fla. (PRWEB) October 01, 2019
Sunbelt Staffing, a leading provider of specialty healthcare and education staffing services, today announced it is opening a downtown Tampa office. This new location will expand Sunbelt's presence in the Tampa area allowing them to connect more of the nation's top talent with outstanding schools nationwide. The new office is located at 501 East Kennedy Boulevard inside of WeWork Place.
"For 30 years, Sunbelt has provided career opportunities for Tampa area professionals in the suburbs and this new venture will bring us closer to the heart of Tampa," said Howard Gerber, senior vice president at Sunbelt Staffing. "I'm excited about this next chapter for Sunbelt, it's employees and the community."
Kim Western, vice president at Sunbelt Staffing added, "Our expansion into downtown Tampa is something we've been working toward for quite some time. Tampa's economy continues to be strong, and we're still seeing extraordinary growth in the number of talented professionals that choose to call it home, thanks, in large part, to the city's revitalization and development efforts. We want to be a part of that."
Western continued with, "Personally, I'm proud of both the success we've experienced and the culture we've developed at our Oldsmar headquarters over the last several years, and I'm excited for the opportunity to bring some of that to Tampa. Of course, I'm equally excited for the chance to see the fresh perspectives, ideas, and energy that Tampa can bring to us. We're eagerly anticipating our chance to be involved in such a thriving community."
Sunbelt is seeking talent to grow the new office and will be hosting a career social on October 3rd at 5:00 PM at The Dessert Spot at Toffee to Go. The goal is to connect with people who are ready to venture into the new downtown Tampa space, make an impact on the lives of kids with special needs, and create a rewarding future for themselves! Interested candidates are highly encouraged to bring their resume to the event, as members of the Sunbelt Staffing sales and management team will be present.
For career and workforce resources, visit sunbeltstaffing.com or follow @sunbeltstaffing on Facebook and Twitter.
About Sunbelt Staffing
Sunbelt Staffing, headquartered in Oldsmar, FL, is a healthcare and educational staffing company and has been connecting professionals to healthcare facilities and schools nationwide for 30 years. It offers travel, per diem, and permanent placements in nursing, therapy, advanced practice, and schools. To learn more about Sunbelt Staffing, please visit sunbeltstaffing.com.