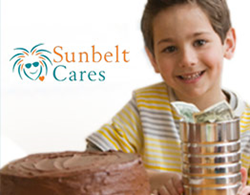 OLDSMAR, Fla. (PRWEB) October 15, 2018
Sunbelt Staffing, a national healthcare staffing company, has partnered with Everyday Hero Project and Operation Float to support The Activate Tour: a group of volunteers who travel to cities affected by disasters and provide critical supplies and medical aid to those in need.
The Sunbelt team will collect a variety of relief items including water, baby formula, clothing, toiletries, diapers, first aid items, canned goods, bedding, school supplies, and batteries. Donations will be picked up and will be transported to Pensacola, Fla. On October 19 for distribution to Mexico City Beach, Fla. and surrounding areas.
As part of its philanthropic initiative, Sunbelt Cares, Sunbelt has decided to internally collect donations in memory of Michael DaCosta, a member of Operation Float and a friend of Sunbelt colleague Nicole Forgette. There will be nearly 120 active participants supporting the relief effort.
Sunbelt Cares is a colleague-created initiative which aims to raise awareness in the community and give back to local, national, and international causes. Through Sunbelt Cares, colleagues remain active in the community in creative ways. In 2015 alone, they have donated relief goods to the 2015 Nepal Earthquake survivors, collected backpacks filled with school supplies for students in need, volunteered in local schools as part of the "Reading to Kids" program, and more.
Operation Float' s mission is to mobilize and organize global communities in order to provide relief for disaster victims. They do this by setting up infrastructure with local trusted sources and resident volunteer bases unique to every area based on need and available resources.
For more information or to sign up as a volunteer, please contact:
Catalina Farrington 808.389.1518 (Activate Tour) Operation Float coalition email: OperationFloatFL@gmail.com
Monetary donation may be made to gofundme.com/OperationFloat-Florida.Contributors can receive 501(c)(3) tax donation receipts from Everyday Hero Project 501c(3). Please email receipt requests to EverydayHeroSquad@gmail.com and include your name, address, photos (of receipts, goods, or cash/check), and total cash value. Operation Float's project budget will be given upon request as they are operating with total transparency.
About Sunbelt Staffing
Sunbelt Staffing is a healthcare staffing company that has been connecting healthcare professionals with facilities nationwide for more than 25 years. It offers travel, per diem, and permanent placements in nursing, therapy, advanced practice, and schools. Sunbelt employees created Sunbelt Cares, an employee-managed program, through which they donate their time, money, and resources to various community improvement projects.
To learn more about Sunbelt Staffing, visit sunbeltstaffing.com sunbeltstaffing.com.