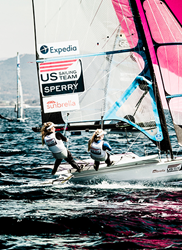 You can not watch this film without laughing out loud and crying, it really takes viewers on an emotional roller-coaster.
(PRWEB) July 01, 2016
What happens when a dream is finally realized after years of sacrifice and struggle? Can the journey be as rewarding as the destination if an athlete's dream of competing on the world's stage falls short? These are a few of the themes that 'Uncharted Waters,' a documentary following athletes on the US Sailing Team Sperry, will explore in the final year of their journey toward a spot on the team that will compete against the world's best in August.
Made possible by Sunbrella®, the leading manufacturer of performance fabrics, 'Uncharted Waters' will premier July 4, 2016 online at sunbrella.com/uncharted and will take viewers on an intimate, behind-the-scenes journey to see what it takes to become a world-class competitive sailor.
"What started out as a marketing program to support our oldest and most devoted market quickly became a life-changing experience for all involved," said Gina Wicker, director of A&D markets for Sunbrella. "You can not watch this film without laughing out loud and crying, it really takes viewers on an emotional roller-coaster and my hope is they (viewers) will fall in love with these athletes and this sport like I have."
The film tackles challenges such as what it takes to make it as a solo competitor enduring long periods on the road for competitions and training; how teammates balance friendships with working relationships; how female sailors overcome stereotypes in a sport once dominated by men; and the personal sacrifices athletes make for a chance to compete at the pinnacle of their sport.
The film includes the story of the adaptive sailing team members Sarah Everhart-Skeels of Tiverton, R.I., and Cindy Walker of Plymouth, Mass., for whom sailing offered freedom from lower body paralysis resulting from a cycling accident (Sarah) and a rare inflammatory disease (Cindy). They are the only all-woman adaptive sailing team in their class, and making a run at the US Paralympic Sailing Team in 2016 is likely their last chance to compete in the Paralympics since sailing has been removed from the 2020 Paralympic Games in Tokyo.
Viewers can also follow the story of two young guns, Paris Henken and Helena Scutt, who race the fast, dynamic 49er FX, which will debut as a new boat class for women in the 2016 Olympics. Henken suffered serious injuries after being hit by a competitor's boat at a race in late 2013 and the duo's story will follow their comeback and climb through the ranks.
US Sailing Team Sperry athletes included in 'Uncharted Waters' are:

The Outsider: Caleb Paine, San Diego, Finn Men's Heavyweight Dinghy
Woman Power: Sarah Everhart-Skeels, Tiverton, R.I., and Cindy Walker, Plymouth, Mass., SKUD-18 Paralympic Class
The Head and the Heart: Paris Henken, Coronado, Calif., and Helena Scutt, Kirkland, Wash., 49er FX
Team No Filter: Annie Haeger, East Troy, Wisc., and Briana Provancha, San Diego, Women's 470 Two-Person Dinghy
Last Chance: Ricky Doerr, Clifton, N.J., Brad Kendell, Tampa, Fla., and Hugh Freund, South Freeport, Maine, Sonar Paralympic Class
Unfinished Business: Paige Railey, Clearwater, Fla., Laser Radial One-Person Dinghy
Sunbrella developed 'Uncharted Waters' as part of its Gold-level sponsorship of the US Sailing Team Sperry. Film crews followed the athletes to four countries and nine cities around the world in a twelve-month span including Miami, Florida, Palma de Mallorca, Spain and Medemblik, The Netherlands.
ABOUT SUNBRELLA FABRICS
Sunbrella has revolutionized the way the world thinks about how beautiful fabrics look, feel and perform. With an inspired palette of colors, styles and textures, premium Sunbrella fabric gives consumers, designers and architects the material they need to create the extraordinary in marine, shade, residential/upholstery, commercial and contract applications.
Versatile in style and function, Sunbrella fabrics create welcoming spaces indoors and out, offering durability, fade resistance and ease of cleaning. They also offer peace of mind; Sunbrella fabrics have achieved GREENGUARD GOLD certification as contributing to healthy indoor air quality.
Introduced in 1961, Sunbrella fabrics are manufactured and marketed by Glen Raven, Inc., a 135-year-old family-owned company based in North Carolina with operations worldwide. For more information on Sunbrella, including inspiration, fabric collections and where to buy, visit sunbrella.com.