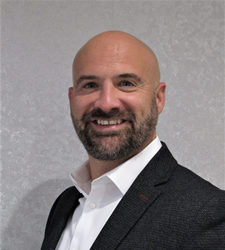 Neil's innovative strategic focus will be essential in driving commercial excellence and accelerating Sundyne's success around the globe.
ARVADA, Colo. (PRWEB) October 19, 2020
Sundyne, a global leader in the design and manufacture of mission critical pumps and compressors, today announced that Neil Langdown has been promoted to a new strategic role of Commercial Excellence Leader. Neil will also continue to serve Sundyne customers in his current role as Vice President for Asia.
Neil Langdown has worked at Sundyne since 2018, where he has focused on oil & gas and petrochemical markets. In his newly appointed roles, Langdown will focus on creating value by leveraging IOT condition-based monitoring to develop new business models and service offerings. Neil will also work to improve efficiency & profitability by digitizing business processes and enhancing the customer experience through seamless platform integration.
Prior to Sundyne, Neil held leadership positions in related industries, as Managing Director for Bedford Pumps for the water industry and Sales & Marketing Director at Siemens for power generation. In additional to his OEM experience, Neil also has extensive service & support experience as Aftermarket Director for Wartsila and General Manager of Hayward Taylor's Service Division, concentrating on pumps & motors for Subsea and Nuclear markets.
"Neil's 20-plus years of experience and his innovative strategic focus will be essential in driving commercial excellence around the globe, and also accelerating Sundyne's success throughout Asia," said Sundyne's CEO Mark Sefcik. "We're building a world class management team, and executives like Neil bring a wealth of experience that will help Sundyne's customers address their business needs."
Neil earned his Bachelor's degree in Chemical Engineering from Loughborough University, and did his graduate work in business at Edinburgh Business School's Heriot-Watt University. Neil Langdown will continue to be based from the UK, and can be reached at: Neil.langdown@sundyne.com.
About Sundyne:
Headquartered in Arvada, Colorado with operations and presence in Europe, the Middle East, India, Asia, Japan and China, Sundyne is a leading manufacturer of precision-engineered highly reliable, safe, and efficient centrifugal pumps and compressors for use in hydrocarbon processing, chemical processing, power generation, industrial, and high-pressure water applications. Sundyne is the world leader in delivering low-flow, high-head integrally geared centrifugal pumps and compressors as well as a leader in the supply of safe and leakage-free sealless magnetic drive centrifugal pumps and diaphragm compressors. Sundyne pumps and compressors designs are compliant with the industry's most stringent API, ANSI/ASME, and ISO standards. To learn more about the Sundyne family of precision-engineered pumps and compressors, please visit http://www.sundyne.com.
Contact:
Mike Dean
303-521-5713
mike.dean@sundyne.com