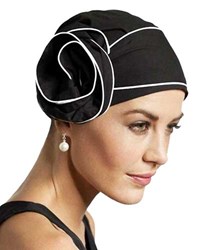 Sungrubbies.com offers lovely head scarves to help those coping with hair loss due to medical conditions or treatments.
San Diego, CA (PRWEB) November 21, 2013
SunGrubbies.com, a leading online retailer of sun protection products has expanded their product inventory to include head scarves specifically designed for women who have lost their hair due to medical conditions or treatments. Coping with hair loss can be difficult. These lovely scarves are a beautiful alternative to other head coverings.
SunGrubbies.com offers two different styles: the Chemo Head Scarf and the Chemo Head Scarf-Crinkled Cotton. These soft cotton scarves are comfortable to wear and are gentle to the scalp. An added bonus is their versatility. Different looks can be created simply by the numerous ways to tie the scarf ends. The result is a fashionable and ultra feminine look that may help boost self confidence.
The chemo head scarves can be found on the SunGrubbies.com website in the "Just for Fun" section. Other winter products such as hats and gloves can also be found there. Please note, that unlike the other items on the SunGrubbies.com website, the products in "Just 4 Fun" collection are not rated sun protective.
Check out Look Good Feel Better, http://www.lookgoodfeelbetter.org. This website is dedicated to helping women undergoing cancer treatment. Their goal is to improve the quality of life and boost self esteem through complimentary beauty sessions. Their programs help create a sense of courage, confidence, and community.
Since the founding of the company in 1997, the mission of SunGrubbies.com has been to provide attractive and comfortable sun protective clothing and accessories of the highest quality and reliability at affordable prices. Many of their products have been approved and recommended by the Skin Cancer Foundation and the Melanoma International Foundation. Every product has been laboratory tested for their sun protective ability and every purchase is 100% guaranteed.
Check out http://www.sungrubbies.com for more information about the Just 4 Fun collection as well as their sun protective products. They can be reached toll free at (888) 970-1600 and they can be found on Facebook. To join the SunGrubbies.com affiliate program, go to http://bit.ly/ifRDrH. The sungrubbies.com Hat Shop is located in San Diego and is open by appointment.