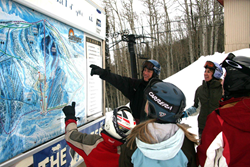 Ski Swim Stay works for skiing and snowboarding families. If it didn't, it wouldn't still be around and going strong after 28 years.
Glenwood Springs, Colo. (PRWEB) November 25, 2014
Sunlight Mountain Resort understands that it's not always easy to keep things simple, especially when planning a family ski vacation. With navigating winter weather conditions, packing gear and rounding up the kids, arranging a winter ski trip can seem like a daunting task. With just three simple components, Ski Swim and Stay, Sunlight Mountain Resort eliminates the complexity of planning a memorable family ski vacation by integrating fun both on and off the mountain at a price that's affordable. It's that simple.
"Ski Swim Stay works for skiing and snowboarding families. If it didn't, it wouldn't still be around and going strong after 28 years," said Tom Jankovsky, general manager for Sunlight Mountain Resort. "The fact that Ski Swim Stay is still one of Colorado's top ski packages after all these years demonstrates that it's a winning combination."
The Package:
Ski Swim Stay.
Packages include all-day lift tickets at Sunlight Mountain, admission to the Glenwood Hot Springs Pool and accommodations at one of the participating lodges. Incredibly, Ski Swim Stay packages still start as low as $99! Best of all, for families with pre-teen children, kids 12 and younger ski free with a paying adult. Ski Swim Stay packages are available throughout the 2014-15 season, though free skiing for kids is not available from Dec. 20, 2014 to Jan. 4, 2015.
The Breakdown:
Ski.
Packages include skiing at Sunlight Mountain Resort where skiers and riders have access to 67 trails and over 680 acres of terrain. Sunlight's trails funnel back to the lodge area which makes it easy for groups to meet up for lunch or at the end of the day. Sunlight is also home to one of the longest, and some of the steepest, runs in the state. Ute is a continuous trail that traverses over 2 miles of terrain from summit to base. The East Ridge is an experts-only area that will challenge even the most seasoned skiers and riders. The majority of Sunlight Mountain however is comprised of moderate terrain that's ideal for intermediates and beginners.
Swim.
One of the reasons Ski Swim Stay can't be duplicated anywhere else is because only Glenwood Springs is home to the world's largest mineral hot springs pool and every Ski Swim Stay package includes admission to the Glenwood Hot Springs Pool. In fact, one of the best times to enjoy the world-famous attraction is during the winter when it's snowing and the temperatures dip below freezing, that's when steam clouds hover over the pool, at least until a brisk breeze blows them away. The smaller Therapy Pool is giant hot tub and an ideal place to unwind after a day on the slopes, whereas the larger pool is essentially an aquatic playground that's the size of a football field! The pool is open every night until 10 p.m., plenty of time to get into some hot water after the slopes close.
Stay.
Visitors can choose from a diverse variety of accommodations. For the ultimate skiing convenience, stay slope-side at the Sunlight Adventure Lodge or the Brettelberg Condos. Many options are also available in town including two historic hotels: the Hotel Denver and the Hotel Colorado. The Glenwood Hot Springs Lodge is ideal for those who want to be within easy walking distance of the pool. Other choices include the Cedar Lodge, located on Grand Avenue south of downtown and Glenwood Canyon Resort in No Name, just a few miles east of Glenwood Springs. Visit the Sunlight Mountain website to check out the accommodations in greater detail and to book a Ski Swim Stay package.
Also, by booking a Ski Swim Stay getaway, winter vacationers can avoid getting caught in traffic congestion along Interstate-70. Instead of going skiing for just one day and battling traffic from Denver to the mountains and back, arrange a multi-day Ski Swim Stay package to spend more time on the slopes rather than stalled in traffic.
The Extras
All Ski Swim Stay packages take place in Glenwood Springs where in addition to skiing at Sunlight Mountain Resort, swimming at the Glenwood Hot Springs and staying at affordable accommodations, there are plenty of other après-ski pastimes. These include family-friendly live comedy shows at the Glenwood Vaudeville Revue, Winter on the Mountain activities at Glenwood Caverns Adventure Park and eating at the many restaurants in Glenwood's newly refurbished downtown dining district.
Ski Swim Stay. It really is that simple. Book your winter Sunlight Mountain Resort ski vacation today at http://www.sunlightmtn.com.
About Sunlight Mountain Resort
There's so much to smile about at Sunlight Mountain Resort in Glenwood Springs, Colorado. A winter playground, Sunlight welcomes downhill and cross-country skiers, snowboarders and snowshoers. Known for being family-friendly and affordable, there is something for everyone at Sunlight Mountain Resort, with over 680 acres and 67 trails. Sunlight offers a free shuttle, in-town and on-mountain equipment rentals and retail stores, a ski school, a restaurant, a bar and on-going special events. Conveniently located near Glenwood Springs, Sunlight Mountain Resort is an easy 170-mile drive from Denver along Interstate 70 and is 98 miles from Grand Junction. For more information about Sunlight Mountain Resort, please visit http://www.sunlightmtn.com or call 970-945-7491.
Media Contacts
Jennie Spillane, Marketing Manager
Sunlight Mountain Resort
970-945-7491 ext. 220
Jennie (at) sunlightmtn (dot) com