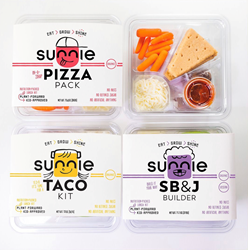 We set out to provide a unique mealtime experience designed to promote healthy, simple and nutritious meals that kids love made with real food from clean ingredients - the way it should be
LOS ANGELES (PRWEB) January 11, 2021
Introducing Sunnie - maker of healthy, plant-forward and convenient DIY kids' meals perfect for on-the-go or when there's just no time to cook. Sunnie is dedicated not only to providing fun and nutritious meals for kids, but also to building better eaters for the future by creating engaging mealtime experiences backed by science and research. The Los Angeles-based food startup debuts with its plant-powered take on three kid-favorite classics - pizza, tacos and PB&J - each packed with up to 20g of protein and 10g of fiber.
Sunnie co-founders Katy Tucker and Lisette Howard have always loved cooking - especially for their families - but both admit that preparing multiple kids meals per day can feel overwhelming, especially with limited time. In early-2019 both Tucker and Howard found themselves searching for alternative, convenient mealtime solutions for their children. What they found was dozens of unhealthy, over-processed meals, each with extremely high levels of sodium and saturated fat and lacking the nutrients kids need for a healthy, balanced diet. Together they decided there was a need for plant-forward meal options for kids made fresh with real, wholesome ingredients without sacrificing nutrition for convenience.
"We recognized an opportunity to disrupt a kids' food space saturated with unhealthy, over processed meal options," says Tucker. "We set out to provide a unique mealtime experience designed to promote healthy, simple and nutritious meals that kids love made with real food from clean ingredients - the way it should be."
Tucker and Howard enlisted the help of Jill Castle, MS, RDN, one of the country's leading pediatric nutrition experts, to determine what kids should be eating in order to meet the nutritional needs of their growing bodies. After extensive research and recipe development, the efforts resulted in Sunnie pre-made lunches - delicious, 100% organic, plant-forward go-to meals with high-quality ingredients that both parents and kids can "feel Sunnie about."
"The food choices and decisions parents make, for themselves and for their children, can have lasting effects on a child's eating habits, even into adulthood," explains Castle. "Further, studies have shown that kids who are engaged in their own meal preparation, such as readying ingredients, become invested in mealtime entirely differently than if it's prepared for them. The hands-on, build-your-own aspect of Sunnie meals, with healthy, plant-forward ingredients empowers children to make it their way."
Sunnie's pre-made lunches have more protein and fiber than the leading supermarket pre-made lunches. Using fresh alternative ingredients, such as Sunbutter (sunflower seed alternative), cassava flour, and strawberry beet jam, Sunnie boasts unmatched nutrition with an abundant amount of macro & micronutrients within each meal kit. Available in two sizes - Lil Shine and Full Shine (includes smoothie) - each meal includes a main build-it-yourself entree, seasonal veggies and a sweet treat (dates or cookies):

Pizza Pack - One build-your-own pizza including a side of seasonal veggies, one smoothie and two mini coconut sugar chocolate chip cookies.
Taco Kit - One build-your-own taco kit including cassava and flax seed flour taco chips, tangy guacamole, black bean spread and freshly grated cheese including one smoothie and two mini coconut sugar chocolate chip cookies.
SB&J Builder - One build-your-own Sunbutter & Jelly sandwich with strawberry beet jam, creamy sunbutter, and whole wheat bread including a side of seasonal veggies, a smoothie and date bites.
"Sunnie is focused on ensuring kids feel their best by eating their best," says Howard. "In addition to providing healthy, build-your-own mealtime experiences, our partnership with The Los Angeles Boys & Girls Club is especially rewarding. Through our collaboration we're dedicated to ensuring Sunnie meals and food education is accessible to underserved communities through our initiative: Spread Some Sunnie."
The Spread Some Sunnie program, in partnership with the Los Angeles Boys & Girls Clubs, surprises club members on Fridays with Sunnie pizza parties while providing important education on healthy eating habits. Sunnie customers can donate meals to these surprise parties by visiting the Sunnie online store and selecting "Donate" for the delivery option. Sunnie will also automatically donate one meal kit every month for every new monthly meals subscriber.
Sunnie meal kits are currently available via subscription delivery on FeelSunnie.com starting at $7.25 each, with weekly delivery within the greater Los Angeles area. For more information visit feelsunnie.com and follow Sunnie on Facebook and Instagram.
ABOUT SUNNIE
Sunnie is dedicated to building better eaters for the future. Sunnie provides fun, healthy and plant-forward DIY mealtime experiences for kids backed by proven science and research. Three different mealtime options round out Sunnie's plant-powered lineup - pizza, tacos and the SB&J - each made fresh and perfectly balanced with 100% organic ingredients. Each meal kit is packed with nutrients and boasts up to 20g of protein and 10g of fiber. Sunnie exists so that parents can feel better about feeding their kids when time is limited or their on the move. Kid approved. Nothing but the good stuff, so kids can "shine from the inside out". #feelsunnie