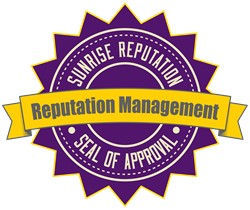 (PRWEB) August 29, 2014
Sunrise Reputation has announced that they are implementing a variety of new reputation management services, including one service that has been designed specifically for travel agents and agencies. The company has recognized just how much individuals in this field rely on their reputations in order to be successful, noting that one single piece of negative information may result in the loss of current clients and the inability to attract new clients as well. Through the use of the specialized service now offered by Sunrise Reputation, the company believes that individuals who have been negatively impacted by a poor online presence can significantly benefit.
There is a dual benefit to the service that is offered by Sunrise Reputation, as travel agents can not only minimize the presence of negative online information, but they can also promote their company's products and services as a part of a reputation management campaign. This added benefit is an important consideration, since Sunrise Reputation is able to effectively transform the travel agent's reputation from negative to overwhelmingly positive.
"We take great pride in the fact that our services are uniquely designed with the specific needs of each individual client or business clearly in mind," said Brandon Hopkins of Sunrise Reputation. "Travel agents that have reputation issues face a number of difficulties, and it is very important that they take corrective action as soon as possible."
Since the travel industry is heavily reliant on the generation of consumer trust, just the slightest hint of negativity in a travel agent's online reputation can cause several significant issues, the most obvious of which is the financial impact that may ultimately result. Consumers have a great deal of options to choose from when it comes to travel agents, and it is very unlikely that they will take a chance on a travel agent if there is negative information causing a poor online reputation. Fortunately, the new service available from Sunrise Reputation is able to provide a solution in a manner that is both effective and expedient.
Sunrise Reputation
Sunrise Reputation was founded with one goal in mind: helping businesses and individuals clean up and maintain a positive online reputation. Sunrise Reputation is an experienced reputation management company that specializes in public relations, marketing, media management, press releases, search engine optimization (SEO) and link building. For more information about Sunrise Reputation or how the company can help you with a reputation problem contact them by phone at 559-871-1613, email brandonchopkins(at)gmail(dot)com, or online at SunriseReputation.com.