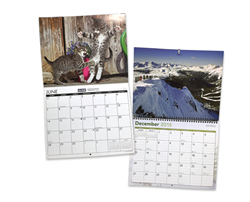 Upon request, one of their color professionals will go through the images and perform standard image enhancement such as color correction and sharpening at no additional charge
CHICAGO (PRWEB) November 29, 2018
Printing Calendars at Sunrise Hitek is a true turn-key solution. Simply send digital photos and they take care of the typesetting, layout, printing, and shipping. Stock images can also be chosen from. Sunrise Hitek debuts ColorIQ™ Photo Enhancement on their printing just in time to print calendars for the New Year. Upon request, one of their color professionals will go through the images and perform standard image enhancement such as color correction and sharpening at no additional charge.
Without a doubt calendars are a fabulous corporate giveaway. According to an article on Biznology.com, 90% of recipients use a promotional product they received at least once a week, 10% of recipients pass a promotional product on to family or friends, and 87% kept a promotional product for more than a year. Full article here. This means that corporate giveaways are definitely worth the investment. Considering the 90% that use the promotional product at least once a week, that means weekly others will be seeing them use the product and therefore seeing the brand on the product.
In comparison to other traditional advertising efforts, promotional items are a better investment. The aforementioned Biznology article asserts that: 4% of recipients made a purchase after viewing a print ad, 1% made a purchase after watching a television commercial, and 6% made a purchase after seeing an online ad. When comparing costs of a television ad to that of a promotional item, the promotional item is significantly less cost and also is something tangible for the potential client to see.
Ordering is as easy as 1, 2, 3. Step one is to collect artwork and compress into a .zip file. Step two is to place the order on their website and attach .zip file. Step three, sit tight. Sunrise will email a PDF proof within 2 days, and print/ship out the order within 5 days after approval.
About Sunrise Hitek
Sunrise Hitek is a leading maker of protective gear for schools' 1:1 technology programs. HITEK has been designing tech accessories since 2013 and expanding ever since. Their primary customer are K-12 schools, leading them to recently develop the hitekcases website specifically for the educational sector. Sunrise Hitek Group, LLC, also operates Sunrise Hitek, a leading color printing company based in Chicago. As a G7 Qualified Master Printer, Sunrise is uniquely qualified among protective gear makers to offer a wide array of customization options, ensuring the most consistent and accurate color reproduction. Sunrise is an Inc. 5000 company established in 1988 and employs the most advanced equipment and technology, such as G7-certified HP Indigo and UV flatbed presses, and digital die-cutting, to create best-in-class products. A privately-owned enterprise, the company is based in Chicago and sells products worldwide.