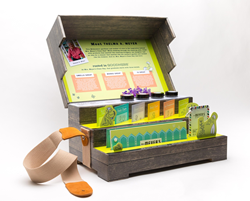 Sunrise Hitek are particularly proud of how they melded so many different techniques to create one cohesive product.
CHICAGO (PRWEB) February 25, 2019
The Graphic Design USA Packaging Awards are bestowed upon the most creative and innovative packaging designs. This contest is sponsored by American paper mill Neenah Packaging. As paper packaging innovators, they understand the value of product packaging. From personal branding like business cards to wine labels to intricate product boxing; they all play an integral part in marketing. An eye-catching display or package can be that extra something that draws the consumer to the product.
This past fall Sunrise Hitek collaborated with marketing and design firm TracyLocke to create a completely custom box to showcase Mrs. Meyer's Clean Day products. This was a unique project due to the many different materials and techniques that went into this single project. The materials used for the finished project included: foam, canvas, custom cotton strap with leather ends, wood, plastic and aluminum, chrome fasteners, cardboard, UV ink, soft-touch laminations, and adhesives. The interior structure for the box was aluminum composite panels and PVC board. The exterior was primarily comprised of UV printed and laminated cardboard.
This project began with TracyLocke furnishing some 3D renderings as well as their original artwork, with a goal of simulating a wooden box and a strap handle. Sunrise Hitek then provided all of the structural design, mockups, fabrication, and assembly of the completed boxes. All of the structural design, production, and assembly was done in-house at Sunrise Hitek by their talented team with specialized tools including a grand format flatbed UV printer and two Zund CNC computerized cutters. Sunrise created a video to highlight the various techniques used.
Sunrise Hitek are particularly proud of how they melded so many different techniques to create one cohesive product. Large format applications like custom die-cutting and foam inserts married with their popular BeefyCard business card with painted edges technique and textured printing made for a finished piece that was both highly functional and pleasing to the eye.
About Sunrise Hitek
Sunrise Hitek is an Inc. 5000 company established in 1988 and employs the most advanced equipment and technology, such as G7-certified HP Indigo and UV flatbed presses, and digital die-cutting, to create best-in-class color printing, packaging, trade show graphics, and promo products. A privately-owned enterprise, the company is based in Chicago and sells products worldwide.