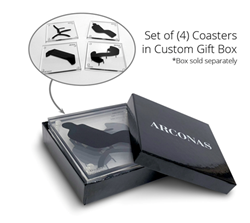 The finished coasters have flame-polished edges that are crystal clear and look like clear glass even from the side.
CHICAGO (PRWEB) October 25, 2018
The holidays are a particularly busy time, and an important time for businesses to show their customers that they appreciate them. Corporate gifts can be overwhelming for both the giver and receiver. Sunrise Hitek has it covered with their fully customizable boxed coasters, perfect for the individual, or corporate gifting.
Acrylic Coasters are a specialty at Sunrise Hitek. These beautiful personalized coasters have a high-gloss finish, are beautifully printed with any logo artwork or message, and are sure to be treasured by clients for years to come. Sunrise can cut coasters to virtually any size per given design. While acrylic is the most popular, there are many other materials are available to choose from.
Custom acrylic coasters are available in three thicknesses – 0.118", 0.22", or 0.5".The standard coaster size is 3.875" square with rounded corners, fitting perfectly into the 4"x4" gift box. These can be printed with white underlay in select areas only, or with a full opaque background. The coasters are made to last with waterproof UV ink that will not run when wet. Additional upgrade options include double-side printing and rubber feet for coaster bottoms.
Sunrise are able to print these coasters at a reasonable cost by placing hundreds of parts on a large vacuum table. Due to this process order quantities from one set to thousands can be accommodated. They are sold as a set of four coasters. Sunrise's fade-resistant inks are also scuff and scratch-resistant for long-term use. The finished coasters have flame-polished edges that are crystal clear and look like clear glass even from the side.
About Sunrise Hitek
Sunrise Hitek is a leading maker of protective gear for schools' 1:1 technology programs. HITEK has been designing tech accessories since 2013 and expanding ever since. Their primary customer are K-12 schools, leading them to recently develop the hitekcases website specifically for the educational sector. Sunrise Hitek Group, LLC, also operates Sunrise Hitek, a leading color printing company based in Chicago. As a G7 Qualified Master Printer, Sunrise is uniquely qualified among protective gear makers to offer a wide array of customization options, ensuring the most consistent and accurate color reproduction. Sunrise is an Inc. 5000 company established in 1988 and employs the most advanced equipment and technology, such as G7-certified HP Indigo and UV flatbed presses, and digital die-cutting, to create best-in-class products. A privately-owned enterprise, the company is based in Chicago and sells products worldwide.