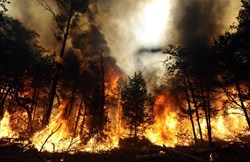 After the Yarnell Fire, I made SunSeeker my number one priority in hopes of bringing a better shelter to firefighters as soon as possible.
Phoenix, AZ (PRWEB) December 03, 2013
The SunSeeker Fire Blanket, a revolutionary new fire blanket, is currently in development and seeking donations for prototype testing that will ultimately reach the hands of firefighters. SunSeeker's movement for a safer fire shelter has garnered much attention in the western United States, especially in Arizona, a region where wildfire outbreaks are common. To ramp up their fundraising efforts across the country, SunSeeker has partnered with Spirit USA.
In hopes of enticing more people to donate to the campaign, SunSeeker has teamed up with Spirit USA, a company that offers discount cards for fundraising efforts that can be used at more than 300,000 local and national retailers. For any donation of $100 or more, the donor will receive a discount card with savings that amount to over $1,000. The card can be used for restaurants, hotels, clothing stores, leisure activities, and more. The introduction of this new savings card is in addition to any rewards that are available to donors of the campaign who are helping SunSeeker reach its $150,000 goal. By donating as little as $50, people can receive a piece of the technology for themselves, while supporting SunSeeker's goal to save the lives of firefighters.
The SunSeeker Fire Blanket was developed to be superior to the fire shelters presently used by firefighters all over the country. With a heat resistance of up to 2,500°F, the SunSeeker Fire Blanket offers up to five times greater protection than the common fire shelter, which can only handle up to 500°F for about two minutes. SunSeeker incorporates a wool-based ceramic fiber that does not burn, does not emit harmful fumes or smoke, and is completely waterproof. The material, which NASA uses on their aircrafts to handle atmospheric reentry, possesses properties including low heat storage and full resistance to thermal shock.
This campaign has caught the attention of many, including the LA Times, since tragedy struck Arizona four months ago. Nineteen Hotshot Firefighters were killed after being trapped in the Yarnell Hill Wildfire. These firefighters were specifically trained to deal with wildfires, yet they were equipped with the aforementioned standard shelter when the wildfire blazed over 2,000°F. In an investigation after the fire, a report mentioned that insufficient fire shelters may have been a contributing factor to the deaths of the firefighters. Jim Moseley, founder of SunSeeker, wants to make the SunSeeker Fire Blanket a reality so that future firefighters have the proper equipment to handle such extreme conditions.
"I became really motivated to develop this fire shelter a year and a half ago when I was speaking with a fire official from L.A. County. He showed me the existing fire shelter with all its deficiencies and I couldn't believe that firefighters had the confidence to use it in emergency situations," states Jim Moseley in a video feature by the Los Angeles Times. "After the Yarnell Fire, I made SunSeeker my number one priority in hopes of bringing a better shelter to firefighters as soon as possible."
To learn more about the SunSeeker Fire Blanket and SunSeeker's partnership with Spirit USA, or to donate to the campaign, visit http://www.sunseekerfireblanket.com. Also, like SunSeeker on Facebook and follow SunSeeker on Twitter @SunSeeker2500.
ABOUT SUNSEEKER
SunSeeker's purpose is to deliver advanced fire protection technology to address emergency situations and everyday consumer market applications. The high-temperature fire protection and thermal insulation qualities of aerospace-grade ceramic fibers and sprays used by NASA can better protect residential homes, commercial buildings and personal property. SunSeeker has collaborated closely with individuals that have worked with NASA and the National Forestry Service to develop a product with better fire protection than what it currently available, with the ultimate goal of saving lives. To learn more about the SunSeeker Fire Blanket, visit http://www.sunseekerfireblanket.com.