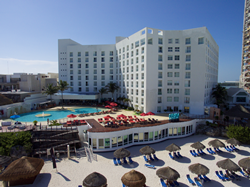 CANCÚN, Mexico (PRWEB) May 19, 2020
The Sunset Royal hotel in Cancún, which belongs to Sunset World Group, is preparing with maintenance, cleaning and personnel training to reopen its doors on June 13, 2020. All employees are receiving training in COVID-19 protocols with advice from experts and in accordance with the Hygiene, Sanitation and Safety Protocol (HSS), to protect themselves, members and guests.
This training includes basic protection instructions, proper use of personal protective equipment, installation of sterilizers at hotel entrances, installation of sanitary stations throughout the hotel and the use of digital thermometers with guests and employees to detect possible cases. In addition, employees from different areas of the hotel are receiving training focused on their specific positions, always closely observing official recommendations.
It should be noted that Sunset Royal has been recognized year after year with the Distintivo H, the highest certification granted by the Secretaries of Tourism and Health to hotels and restaurants that comply with the strictest food and drink safety and hygiene standards. In addition, in terms of service, Sunset Royal has also been awarded by RCI every year since its opening in 1994, with the Golden Crown and Excellence in Service awards. RCI (Resort Condominiums International) is the most important vacation membership exchange company in the world and gives these awards based on positive evaluations of affiliated resorts made by members.
"All Sunset World Group employees are continually trained in hospitality standards and procedures and the result is reflected in the awards we have received throughout our history," said Annie Arroyo, Sunset World Group Corporate Brand and Communication Director. "At the moment we are redesigning our protocols with the guidance of authorities and health specialists in order to offer our members and guests a safe stay," she added.
Resting on the shores of a beautiful white sand beach in Mexico's Caribbean with charming views of the turquoise blue sea, Sunset Royal offers fine entertainment and activities for the whole family, all throughout the day and well into the evening. Sunset Royal's privileged location provides convenient access to the best in travel entertainment, nightclubs, restaurants, as well as shopping. The All Inclusive plan gives you the opportunity to enjoy exquisite international gastronomy, premium beverages and activities at both Sunset Royal and Sunset Marina resorts. Ground transportation between our Cancún resorts and hotels, as well as water transportation to and from Sunset Marina, is also provided.
Sunset World Group is a family-owned Mexican company and a leader in the hospitality industry, offering authentic and unforgettable vacation experiences in Cancún and the Riviera Maya. It was founded more than 30 years ago and has grown to offer six resorts, world-class travel services, amenities and a diverse network of operational and marketing solutions that focus on providing the best vacation experiences for its Members and guests. From cultural excursions to water sports, the Members of Sunset World are never far from their next great adventure.