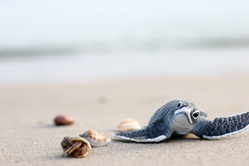 CANCÚN QUINTANA ROO, Mexico (PRWEB) May 08, 2020
Sunset World Group is announcing the beginning of sea turtle season in Cancun and the Riviera Maya. The season begins in May and Sunset Royal hotel's beach is a favorite for female turtles to lay their eggs. That is why the group's security personnel are trained according to the Benito Juárez City Council Sea Turtle Protection Program standards developed by NOM-059-SEMARNAT-2010.
The training includes the following aspects:

Program specifications
Corral placement and construction specifications
Conservation techniques
Female turtle management
Egg collection
Nest movement
Nest location
Egg and nest count
Controlled hatchling release
Statistical report of eggs, hatchlings and female arrivals
Temporary removal of beach furniture
It is worth mentioning that Quintana Roo is fortunate to welcome four of the seven known species of sea turtles: the white turtle (Chelonia mydas), the loggerhead turtle (Caretta caretta), the leatherback turtle (Dermochelys Coriacea), and the hawksbill turtle (Eretmochelys imbricata). Although all four do not arrive every year, during 2019 the following statistics were obtained:
White turtle nests 136
Loggerhead turtle nests 1
Total nests 137
White turtle eggs 16,374
Loggerhead turtle eggs 112
Total eggs 16,486
Turtles released 12,209
"We don't want to minimize the impact of the COVID-19 crisis, but as a positive side effect, flora and fauna have benefited throughout the world," said Enrique Caldas, Sunset World Group Corporate Director of Security, "therefore we believe that the arrival of sea turtles will increase in the 2020 season," he concluded.
Sunset World Group is a family-owned Mexican company and a leader in the hospitality industry, offering authentic and unforgettable vacation experiences in Cancun and the Riviera Maya. It was founded more than 30 years ago and has grown to offer six resorts, world-class travel services, amenities and a diverse network of operational and marketing solutions that focus on providing the best vacation experiences for its Members and guests. From cultural excursions to water sports, the Members of Sunset World are never far from their next great adventure.