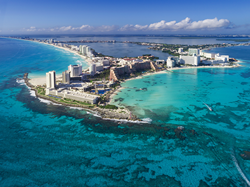 CANCUN QUINTANA ROO, México (PRWEB) April 21, 2020
Even in the midst of a complicated global situation, Sunset World Group celebrates and commemorates everything that Cancun has achieved in its first 50 years of life, not only as a tourist destination but as home to more than half a million inhabitants that are working very hard to prepare for the rebirth of this beautiful corner of the Mexican Caribbean.
It should be noted that what is the most important tourism destination in Latin America was not even a fishing village 50 years ago, and since it was founded on April 20, 1970, Cancun has not stopped surprising us. It started as a tourism project created by Fonatur and was financed by a group of bankers. Within a few years the first hotels were built and by 1980 it was a coveted vacation spot.
Cancun suddenly became the "Mexican dream". Due to the large influx of capital it attracted thousands of national and international immigrants, offering many families the possibility of a better life. But there is more, to date it offers more than 35,000 hotel rooms, is home to the airport with the most international traffic in Latin America, is the 6th biggest tourist destination in the world and welcomes more than 6 million tourists a year.
Throughout its short history, Cancun has faced various economic crises, like the one in 1994, natural disasters such as Hurricanes Gilberto in 1998 and Wilma in 2005, and the consequences of the influenza pandemic in 2009, but it has always shown an admirable resilience and capacity for recovery. That is why Sunset World Group celebrates this anniversary with optimism.
"For Sunset World Group it is an honor to have been born and raised in this paradise", stated Annie Arroyo, Sunset World Group Brand and Communication Director, "We have worked side by side with our dedicated employees and with our members and guests who trust us with their precious vacation time. We love Cancun and despite the situation, we cannot let such an important date go unnoticed," she concluded.
Sunset World Group is a family-owned Mexican company and a leader in the hospitality industry, offering authentic and unforgettable vacation experiences in Cancun and the Riviera Maya. It was founded more than 30 years ago and has grown to offer six resorts, world-class travel services, amenities and a diverse network of operational and marketing solutions that focus on providing the best vacation experiences for its Members and guests. From cultural excursions to water sports, the Members of Sunset World are never far from their next great adventure.