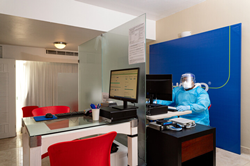 Cancun Quintana Roo, Mexico (PRWEB) February 23, 2021
Due to the COVID-19 regulations for international air passengers and as part of its Safe Stay ™ program, Sunset World Group has created an alliance with Del Chopo Medical Laboratory (Laboratorio Médico Del Chopo) to offer all its members and guests COVID-19 testing in designated, sterilized spaces in Sunset Royal and Hacienda Tres Ríos hotels. This allows guests to return to their countries smoothly and safely. Guests of Ocean Spa Hotel in Cancun can be tested at Sunset Royal using Sunset World's inter-hotel transportation.
Members and guests of Sunset World hotels can take an antigen detection test and receive results in two hours. The PCR test is also available with results in 48 hours if it is taken before 11:00 am and in 72 hours if it is taken after 11:00 am. This service is also available to all Sunset World Group employees.
Making an appointment to take the test is part of the new check-in process, which is done mostly through an app, in order to avoid crowds and reduce waiting time in the lobby. Once the check-in process is completed, members and guests are guided to visit the concierge and make an appointment for their COVID-19 test on a date convenient to their return flight.
It is important to mention that Sunset World Group created the alliance with Del Chopo Medical Laboratory because of its international certifications and experience providing various services. The area where the tests are taken at Sunset Royal and Hacienda Tres Ríos is sanitized by laboratory personnel, and proper precautionary measures are taken, like wearing masks, face shields and gloves.
Del Chopo Medical Laboratory has 70 years of experience and labs in 23 Mexican states with approximately 60 branches dedicated to COVID-19 testing. There are 2 branches in Cancun, which offer both the PCR and rapid antigen tests. In addition, it is important to mention that they have national and international accreditations and certifications.
Sunset World Group is a family-owned Mexican company and a leader in the hospitality industry, offering authentic and unforgettable vacation experiences in Cancun and the Riviera Maya. It was founded more than 30 years ago and has grown to offer six resorts, world-class travel services, amenities and a diverse network of operational and marketing solutions that focus on providing the best vacation experiences for its Members and guests. From cultural excursions to water sports, the Members of Sunset World are never far from their next great adventure.