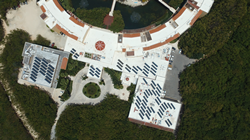 CANCÚN, Mexico (PRWEB) March 06, 2020
Cancún, Quintana Roo - Sunset World Group proudly announces that as of February 2020 all its hotels are primarily supplied with clean electric energy generated by Mexican wind farms and geothermal plants, annually avoiding the emission of 6984 tons of CO2 into the atmosphere. As a reference, 1 ton of CO2 launched into the atmosphere is equivalent to the energy consumed by a plane on a two-way trip between Madrid and New York.
In addition, since 2014 Sunset World Group has successfully maintained an Energy Efficiency Program in its 6 hotels located in Cancun and the Riviera Maya, which consists of constantly implementing high efficiency technologies that considerably reduce the use of electric energy, fuel consumption and the emission of CO2 into the atmosphere.
Thanks to the program, during 2018 Sunset World Group managed to reduce its electricity consumption by 32%, which is equivalent to closing its hotels for three months. Fuel use decreased by 32% as well, which is comparable to not using 853 cars for a year. CO2 emissions were also reduced by 25%, the equivalent to saving 8464 trees.
"These actions make Sunset World Group a leader in the tourism sector, which is turning towards a sustainable model in favor of the environment," said Tulio Arroyo, Technical Advisor for Energy Efficiency at Sunset World Group. "That is why this March 5th Sunset World Group will join World Energy Efficiency Day, as a reminder that the indiscriminate use of energy is directly related to climate change," he concluded.
Sunset World Group is a family-owned Mexican company and a leader in the hospitality industry, offering authentic and unforgettable vacation experiences in Cancun and the Riviera Maya. It was founded more than 30 years ago and has grown to offer six resorts, world-class travel services, amenities and a diverse network of operational and marketing solutions that focus on providing the best vacation experiences for its Members and guests. From cultural excursions to water sports, the Members of Sunset World are never far from their next great adventure.