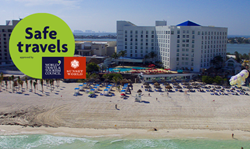 CANCÚN, México (PRWEB) June 17, 2020
Recently the Sunset World Group received the Safe Travels seal from the World Travel and Tourism Council (WTTC) for proactively and effectively putting into practice the hygiene and sanitization protocols recommended by the Mexican authorities and the World Health Organization. This means that its six hotels are suitable for receiving guests in a safe environment.
To do this, Sunset World Group created the Sunset World Safe Stay ™ program with more than 150 preventive actions that include basic protection, training in the proper use of personal protective equipment, installation of sterilizers at hotel entrances, sanitary stations in all areas and the use of digital thermometers with guests and staff members to detect possible cases. In addition, employees from the different areas of the hotels have received training focused on their specific functions.
With all this preparation, the hotels of the Sunset World Group will gradually open their doors, beginning with Sunset Royal in Cancun, on June 19, and Hacienda Tres Ríos in the Riviera Maya, on July 1. It is worth mentioning that Cancun was among the first 5 destinations in the world to receive the Safe Travels seal, along with Barcelona, Seville, Portugal and Saudi Arabia, and is the only destination in the Americas so far.
"The new normal led us to reinvent the way the hospitality industry will work from now on," commented Annie Arroyo, Sunset World Group Brand and Communication Corporate Director. "We have worked hard for months implementing measures that offer the greatest possible safety and security to our members and guests, so it is an honor to receive the Safe Travels seal from the World Travel and Tourism Council," she stated.
The World Travel and Tourism Council is an organization made up of the CEO's of more than 200 companies that include hotels, airlines, travel agencies, cruises and restaurants. The council conducts important research on the impact that the travel and tourism industry has on the economic development of 185 countries, taking into account that 1 in 4 jobs in the world is related to this sector.
Sunset World Group is a family-owned Mexican company and a leader in the hospitality industry, offering authentic and unforgettable vacation experiences in Cancun and the Riviera Maya. It was founded more than 30 years ago and has grown to offer six resorts, world-class travel services, amenities and a diverse network of operational and marketing solutions that focus on providing the best vacation experiences for its Members and guests. From cultural excursions to water sports, the Members of Sunset World are never far from their next great adventure.