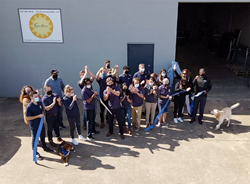 HOUSTON (PRWEB) February 18, 2021
Sunshine Renewable Solutions hosted a ribbon cutting ceremony, organized by the North Channel Area Chamber of Commerce, at their new offices in Houston, Texas. While Sunshine has been in business since 2017, this event was a significant moment for the family-run operation.
Jeff Shed, the owner and CEO, founded Sunshine Renewable Solutions in Houston after gaining experience as a solar installer on the operations side for established companies. He quickly noticed a need for a completely customer-centric solar company in Houston and decided to fill that gap. Using his experience, personal network and his father's business savvy, Sunshine Renewable Solutions was born.
Four years of steady growth across Texas and a trail of happy customers has led to the first of many milestones Sunshine aims to accomplish over the next 10 years and beyond. They have always been in it for the long-haul, which is why they have focused on scaling at a responsible pace and making sure service is excellent from start to finish.
Sunshine is excited to become an active part of the North Channel Area Chamber and to continue getting to know their community. They welcome all to give them a call to simply learn more about solar or get a complimentary custom quote.