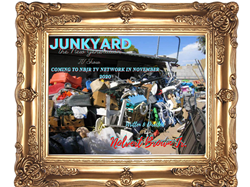 ATLANTA (PRWEB) October 16, 2020
NBJr TV Network is similar to Netflix, Hulu and Sling TV, but much, much more! The Award Winning Director, Brown has put a star studded team together to make the station the NEW sensation! Producer Brandie Murray, Line Producer April Jones, Film Producer Reginald Jones, Writer Andre C. White, Sr. Editor Neil Thornton and Jr. Editor Shane Richard Wilder.
The variety available to subscribers is abundant with more to come! Currently, there's the Christian Grace Praise Station, featuring Pastors from around the world. Coming soon is the Broadway station featuring stage plays and the boxing channel.
On the Christian Grace Praise Station:

Prophet John Lewis brings his message with "Christian Mystics Today". Nolbert Brown Jr. says, "Prophet Lewis has a new spin with his message". Prophet Lewis's message can be seen on Sundays at 12:00 pm EST.
Elder Brown from the "Church of Miracles" tells the stories from the Bible that relate to what is going on today. You can see Elder Brown on Sundays 9:00 am, EST.
Pastor Amy Ziglar of "Amy Ziglar Ministries" service hour has a powerful message: "The Mission is Possible", Encouraging, Empowering everyday people with everyday living. You can see Pastor Ziglar on Sundays at 10:00 am, EST.
In the works:

Eight, The turbulent sixties, God grew tired of the racism and social unrest that took its grip on the world. He sent three Angels down to change the direction for the positive. Dr. Martin Luther King, John Kennedy and Robert Kennedy. In 2008 he sent Barack Obama to finish the job.
Junkyard, The New Generation. Rusty Sanford the great nephew of Fred Sanford has a new spin on selling junk. With his neighbors and friends, Leona, Leroy, Skillet and Peacock by his side, the fun and the laughter will have you in stitches!
Sisters of Soul. A story about three sisters who had nothing in common except their father who needs surgery or else he will die. The sisters all sing a different style of music, but come together to put on a concert to save their father.
News Break, 6:00 pm EST gives you the skinny on national and local news and politics.
Watch out! Here comes "The Lexi Lewis Show". Oprah Winfrey meets Jimmy Kimmel as Lexi presents a refreshing and delightful spin on the talk show circuit. Lexi brings her list of celebrity friends as well as local talent Monday - Friday 5;00 pm EST.
You can view NBJr TV Network on these platforms for just $14.99 a month. Roku, Amazon Firestick, Apple TV, all smartphones and of course nbjrtvnetwork.com.