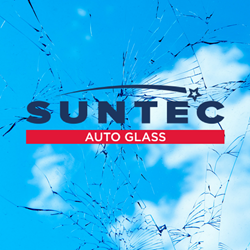 SunTec looks forward to providing windshield replacement, tinting, clear bra PPF and ceramic coating solutions for Arizona customers this 2020 year.
Phoenix, Arizona (PRWEB) February 10, 2020
With the warmer months just around the corner, many AZ residents will be planning their activities and vacations which will likely involve long car drives in the heat. Spring and summer temperatures can be tough on car windshields and there is an increased chance of cracks, chips and damage as the mercury rises. Fortunately for Arizona residents, SunTec Windshield Replacement of Phoenix has expanded and can service all windshield and auto glass needs.
With 2 new Valley locations opened (Gilbert and Phoenix), SunTec's foothold on the Valley has dramatically grown. No longer will customers need to travel any distance to receive assistance as the SunTec mobile windshield replacement and repair service is included at no charge. The SunTec technicians meet customers at home, work or office and can finish the job usually within one hour.
Major Arizona cities that SunTec provides windshield replacement and repair services are listed below, however, technicians do go to other smaller cities throughout the area as well.
Windshield Replacement Glendale AZ - Known as Arizona's "antique capital", don't be surprised to see many vintage, antique and classic automobiles cruising the streets of Glendale. The SunTec auto glass repair and replacement service is equipped to deal with many of these older models as well as those from the present day. Glendale residents can meet a SunTec technician at their home, workplace or any convenient location in the city. Perhaps the Arizona Cardinals Stadium, Glendale Community College, Downtown Glendale or one of the city's many shopping malls – Westgate Entertainment District, Arrowhead Towne Center or Glendale Galleria? Each SunTec windshield technician is familiar with the area and can quickly repair a chip, crack or even install a new windshield in one appointment.
Windshield Replacement Tempe – One of Arizona's most densely populated, busy and diverse cities, Tempe is a crossroads and one of the area's largest communities in the East Valley. It is served by four major freeways and has one of the highest traffic flows in the state. The SunTec Auto Glass technicians come to customers throughout the Tempe city to perform windshield replacement services on all types and years of vehicles. There are plenty of facilities with ample parking to perform even an outside repair service, including Arizona State University and Arizona Mills (one of Arizona's largest shopping malls). Other places SunTec auto glass specialists can meet include the popular Downtown Tempe, Tempe Town Lake, and even the IKEA store in the south of the city.
Gilbert Windshield Replacement – Home to one of SunTec's newly-opened locations, this city in the southeast valley of the Greater Phoenix area is one of the fastest growing areas in the whole of the US. Gilbert has transformed and expanded rapidly in the last few decades. Its population has grown from under 6,000 in 1980 to over 240,000 in 2017. Gilbert is also considered one of the safest places to live in the US, with a large percentage of high income earners. The busy residents of Gilbert may struggle to fit an auto glass repair appointment into a convenient schedule, so it's great that SunTec can accommodate these needs and meet locally throughout the city. Windshield replacement in Gilbert can be anywhere, whether that be Santan Village, the 48-acre Discovery Park or one of the Chandler-Gilbert Community College campuses.
Windshield Replacement Mesa AZ – With over 500,000 residents, Mesa is the 2nd most populated city in the Valley and the third most in Arizona overall. It spreads across several major neighborhoods and 133 square miles in the Eastern Valley. Mesa, Arizona has seen much recent development, both commercial and residential, although it remains a relatively affordable place to live and one that is popular. Large volumes of traffic flow along the busy Highway 60 as well as the loop 202. The dime-sized gravel that lines the edges of the freeway is a frequent cause of windshield damage and the SunTec Auto Glass team make consistent visits to Mesa drivers. SunTec can meet customers at home or office, as well as at locations such as Dana Park or Jakes Unlimited Entertainment Center.
Windshield Replacement Scottsdale – One of the jewels of Arizona, Scottsdale has a reputation as a nationwide golf destination as well as being a popular vacation destination due to its sunny weather and abundance of attractions. Scottsdale is also known as "the West's most western town" and hosts many cowboy-themed events throughout the year. Residents, workers and visitors can benefit from SunTec's Scottsdale windshield repair and replacement services in the event of any glass damage to their vehicle. The SunTec auto glass team serves all local communities in Old Town as well as North Scottsdale and can meet customers at any preferred location. Scottsdale auto glass repair and windshield replacement services can also be conducted at the customer house, office or place of work. The SunTec technician simply requires either a shaded work area or garage to utilize during the process.
Windshield Replacement Peoria AZ – Peoria, Arizona is a growing city located northwest of the central Valley which has been increasing in population in recent years. Many residents commute large distances and rely on the busy Peoria, AZ freeway systems. These highways and freeways often create the perfect storm for rocks and other flying debris to crack and chip commuter's windshields. The SunTec windshield replacement technicians of Peoria, AZ know the area well and can carry out glass repairs at venues including the Peoria Sports Complex, the Wildlife World Zoo and Aquarium and the Challenger Space Center.
Windshield Replacement Tucson AZ – In addition to the whole of the Phoenix metropolitan area, SunTec Auto Glass provides mobile windshield repair and replacement services in Tucson, AZ. The second most populated city after Phoenix, Tucson is home to the University of Arizona as well as a number of large tech-related businesses and has among the most diversified cultures, neighborhoods and economies in Arizona. Unsurprisingly, a high number of insured auto glass replacements take place here in Tucson, AZ. There is no shortage of places for SunTec to meet residents and commuters in order to finish an auto glass repair or replacement service. From the vibrant Downtown area, to the multi-purpose Reid Park, to the Kino Veterans Memorial Stadium in the south which has a 3,000-capacity parking lot. These are all good options but many clients choose a home, office or work visit. Getting a Tucson windshield replacement in 2020 is quick with SunTec's mobile team of specialists who are available seven days a week and ready to serve the community.
Surprise AZ Windshield Replacement – Situated northwest of Phoenix, Suprise is another rapidly expanding city in Arizona. It more than quadrupled in population size between 2000 and 2017 and now has more than 134,000 residents. Much of this expansion has been due to the development of the Sun City Grand Resort. With Surprise roads becoming ever-busier, the number of damaged windshields are also increasing. SunTec Auto Glass serves all Surprise residents wherever is convenient for them; be that at home, place of work, shopping center or anywhere else. Now, getting a windshield replaced or repaired in Surprise, AZ doesn't have to be a stressful occurrence with the mobile SunTec technicians who visit customers at the location of choice to complete the service.
Windshield Replacement San Tan Valley – This growing metro community situated east of the San Tan Mountains was mostly unused desert land until the start of the 21st century. It has now become a purpose-built residential area featuring several large housing communities. San Tan Valley, Arizona is more remote than the larger Phoenix area cities and many residents may find it difficult to locate a nearby windshield repair shop. This makes SunTec's flexible mobile repair service all the more important. The glass specialists at SunTec can come to clients anywhere throughout the San Tan Valley area and repair auto glass or install a brand new windshield on all current makes and models of cars, trucks and SUVs. If windshield replacement is needed in San Tan Valley, SunTec Auto Glass is ready to help.
Windshield Replacement Queen Creek – Neighboring San Tan Valley and bordering the Maricopa and Pinal counties, the expanding rural town of Queen Creek has increased by over 50% in population since 2010 and now has more than 40,000 residents. SunTec Auto Glass technicians have quickly become familiar with the different housing communities and can perform windshield repair services at a customer house, office, work location as well as at a local hub such as the Queen Creek Marketplace. Windshield replacement Queen Creek, AZ doesn't have to be a complex or inconvenient process, now that mobile technicians of SunTec can meet clients at any of these options above.
Window Tinting Phoenix & Scottsdale AZ - Auto glass repair and replacement is not the only mobile service that SunTec offers to Phoenix and Scottsdale, Arizona residents. SunTec also provides mobile window tinting anywhere in the Valley. That's right, SunTec has even made window tinting services just as flexible and convenient. The mobile tint specialists can meet customers at any location in all of the areas listed above. Receive a custom tinting quote by taking 30 seconds or less to complete the quick online form. Phoenix window tinting is an ideal option to keep the car cool during the hot spring and summer months. Vacationers who are visiting during the cooler months can receive a Scottsdale tint service while attending events such as the Barrett-Jackson or the Waste Management Phoenix Open.
Clear Bra PPF Phoenix & Scottsdale AZ - In addition to tinting services, SunTec also is a provider of clear bra paint protection film (PPF) installation in Phoenix and Scottsdale, AZ. Scottsdale is home to many high-end car dealers and dealerships. Additionally, the area is known for the large number of valuable vehicles that are out on the roads at any given time. Now residents, vacationers and commuters can receive clear bra PPF in Phoenix or Scottsdale on any type of vehicle. From trucks, cars, SUVs, even RVs and motorcycles can receive paint protection film. Costs are determined in a custom quote as each vehicle type is unique as well as the PPF treatment selected. When thinking of PPF Scottsdale or clear bra installation Phoenix services, SunTec is just a phone call or quick contact form away.
Ceramic Coating Scottsdale & Phoenix AZ - While PPF is a valuable addition to a vehicle's protection against rock chips, scratches and flying debris, residents in Phoenix and Scottsdale may be considering ceramic coating services. SunTec provides ceramic coating Scottsdale installation to locals and commuters who are interested in further protecting the vehicle paint from blemishes and sun damage from UV rays. Additionally, SunTec now can provide Phoenix ceramic coating services to residents who live outside of Scottsdale and in the greater Phoenix area. With all the freeway driving that many commuters must undergo, it's no wonder that ceramic coating is becoming an integral part in car paint protection and SunTec sees this sector growing even more in 2020 throughout Phoenix and Scottsdale.
About SunTec Auto Glass
SunTec Auto Glass is a family-owned company, specializing in windshield replacement and repair. The company provides a friendly and knowledgeable auto glass repair service in the Maricopa and Pinal County regions. The company's services include repair and replacement of all auto glass including windshields, rear windows and door windows for cars, vans, trucks, SUVs and specialty vehicles. Depending on the customer and insurance coverage, SunTec has a windshield replacement Phoenix cash back program which is determined on the vehicle make and the type of glass replacement. Additionally, the company provides solutions for vehicle tinting, clear bra PPF and ceramic coating installation.