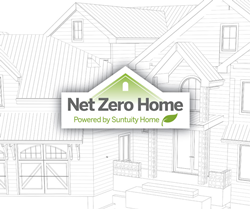 This is the first of many Net Zero Homes we will build to bring homeowners and business owners into a sustainable, affordable, ideally carbon-free future that will positively affect generations to come. -Dan Javan, Suntuity CEO & President
HOLMDEL, N.J. (PRWEB) October 23, 2020
Holmdel, New Jersey-based contractors Suntuity Solar (https://suntuitysolar.com) and Suntuity Home (https://suntuityhome.com) are pleased to announce the construction of a one-of-a-kind LEED Platinum Certified home, the first of many planned under Suntuity Home's Net Zero brand. The 100% solar-powered structure will become the first self-sustaining residential net zero energy project in central New Jersey to be built with cost-effective and environmentally-friendly BuildBlock ICF (Insulating Concrete Forms).
Once construction is complete, the ENERGY STAR® rated home will host 90 rooftop DualSun SPRING® solar modules on an Englert standing seam metal roof, 98% energy efficient LED lighting, a 93 kilowatt solar thermal heating system, and 8 Tesla™ Powerwall batteries for power storage. Additionally, an 1,800-square-foot rain catchment system will be installed on the rooftop to save and recycle up to 40,000 gallons of water per year.
A geothermal heating system and hybrid heat pumps will be used for secondary and tertiary heating supplements, and a 29,000-gallon infinity edge pool will serve as an additional storage location for hot water during colder months. The insulated driveway of the home, also to be built with ICF, will include an ice melt system to battle icy weather conditions. Additional premier brands utilized for this project include a CertainTeed mortarless STONEfacade™ to avoid moisture related issues, a Warmboard® radiant heating system, 3-pane, low emissivity (Low-E) PlyGem windows and a 36-foot span of hinge-less Panoramic Doors made with PVC and aluminum for improved thermal conditions and structural strength.
"We are pleased to announce this unique pilot project," said Suntuity President and CEO, Dan Javan. "It is the first of many Net Zero Homes we will build to bring homeowners and business owners into a sustainable, affordable, ideally carbon-free future that will positively affect generations to come. We have done our best to work with a skilled team of professionals to bring green structures like this to market."
The home will produce enough clean air to offset the pollution from over 63 million miles driven by the average vehicle. While it has a wealth of carbon-reducing benefits, there are also significant savings that the homeowner will experience over time – about $12,000 in annual utility savings, or an estimated ~$300,000 over 25 years. For additional savings, the standing seam metal roof with low-gloss, non-reflective coating helps reduce energy bills up to 50% and keeps the surface 60-70 degrees cooler than other roof options.
Read more about the project here and on social media.
About Suntuity Solar
Suntuity Solar (https://suntuitysolar.com), one of the Top 10 residential solar providers in the nation, brings clean, affordable energy to homeowners across the US. Part of the Suntuity Group of companies founded in 2008, Suntuity Solar is strategically positioned with industry-leading financing and technology that streamlines solar power as a viable energy alternative for several mainstream power options. With innovative financing solutions, in-depth technical expertise and a global presence, Suntuity Solar and its affiliate businesses consistently deliver best-in-class products, services and solutions.
About Suntuity Home
Suntuity Home (https://suntuityhome.com) is the residential construction and renovation division of the Suntuity Group of companies, a conglomerate of renewable energy, finance, technology and UAV service companies that has developed, built and managed assets of hundreds of megawatts of energy projects around the globe. Suntuity Home provides new home construction, roofing, siding, windows, LED lighting, solar, energy storage, EV and smart home automation for homeowners across the US.