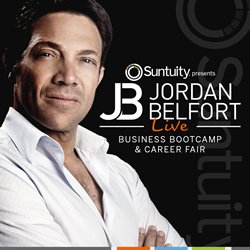 "I'm thrilled to be partnering with Suntuity Solar, who are not only a leader in the solar industry but also improving the lives of people everywhere with innovative energy services." -Jordan Belfort
ATLANTIC CITY, N.J. (PRWEB) February 27, 2020
Jordan Belfort (https://jordanbelfort.com), celebrity author and motivational speaker that inspired the Oscar-nominated film The Wolf of Wall Street, is performing a live seminar at the Hard Rock Hotel & Casino on March 28, 2020 in Atlantic City, New Jersey to an audience of business professionals looking to expand their networking opportunities and potentially start a new, highly successful career path.
Hosted by Suntuity Solar (https://suntuitysolar.com), the residential solar division of the Suntuity Group of companies based in Holmdel, New Jersey, the event is the first of its kind in the industry. The event is geared to redefine solar sales techniques for professionals and enable them to leverage clean solar power as a mainstream energy source using industry-leading and competitive business practices.
"I'm thrilled to be partnering with Suntuity Solar, who are not only a leader in the solar industry but also improving the lives of people everywhere with innovative energy services," said Jordan Belfort. "During this event, which is going to be simply massive by the way, you'll learn the keys to my Straight Line Sales & Persuasion System. The system I used to create over a billion dollars in sales worldwide and launch more millionaires than any sales trainer in history. Get ready, East Coast. I'll see you soon."
The inaugural event, held at the Hard Rock's Etess Arena, serves as a Business Bootcamp and Career Fair for driven individuals that are looking to set a foundation for their own success based on Belfort's Straight Lines Sales and Marketing strategies. In a fast-paced, sales-driven industry, Suntuity Solar continues to recruit top-notch talent that enables its business model with a highly-competitive option in the solar energy vertical.
"We are excited to have Jordan Belfort partner with us on this industry-leading endeavor," said Suntuity Solar CEO, Dan Javan. "We want our team members to position themselves both on a personal and professional level to succeed in life and within the Suntuity Group of companies. Over the past decade, the Suntuity Group has seen year-on-year double digit growth primarily due to the hard work and dedication of our colleagues. Being one of the fastest growing energy companies on the US East Coast in one of the fastest growing industries in the country, we are positioned to help our employees succeed."
Entrepreneurs and sales professionals looking to expand their career opportunities are encouraged to read more about the upcoming event and purchase tickets by visiting https://jbevent.suntuity.com/straightlinejb and reviewing the perks of each ticketing tier. The VIP package will offer a Meet and Greet and networking opportunities with Jordan Belfort, along with front row seating and a complimentary overnight stay at the Hard Rock Casino & Hotel. All ticket holders will receive a copy of the former Wolf of Wall Street's E-book, Straight Line Sales.
A second event is slated for May 16, 2020 in Orlando, Florida. The location will be announced in coming weeks.
About Suntuity Solar
Suntuity Solar (https://suntuitysolar.com) is the residential solar division of the Suntuity Group of companies, a conglomerate of renewable energy, finance, technology and UAV services that has developed, built and managed over 275+ megawatts of energy projects across the globe. Suntuity Solar brings clean, affordable residential solar power to thousands of homeowners across the US with operations in multiple US states.
This press release was published by Suntuity Solar, a Suntuity company.
About Jordan Belfort
Jordan Belfort (https://jordanbelfort.com), aka "The Wolf of Wall Street" is a New York Times best-selling author, renowned motivational speaker on a global level, and the world's #1 sales trainer. He has created more million-dollar producers, aka more millionaires, than any other sales coach in history. His book, The Wolf of Wall Street, was adapted into a blockbuster feature film directed by Martin Scorsese and starring Leonardo DiCaprio. And his revolutionary, one-of-a-kind Straight Line Sales System has been widely accepted as the most powerful and effective sales training system ever conceived.
Disclaimer:
The information in this release has been included in good faith and is for general purposes only. It should not be relied upon for any specific purpose and no representation or warranty is given as regards to its accuracy or completeness. Suntuity is a registered trademark of Natural Power Sources LLC D|B|A Suntuity. No information in this press release shall constitute an invitation to invest in neither Suntuity, Suntuity Solar, nor any of its affiliates. Neither Suntuity, nor Suntuity Solar nor their affiliates' officers, employees or agents shall be liable for any loss, damage or expense arising out of any action taken on the basis of this press release, including, without limitation, any loss of profit, indirect, incidental