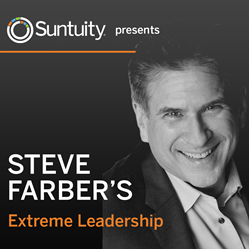 I'm honored to partner with Suntuity on these Virtual Training Events to equip people with the tools and strategies that will help you master the art of becoming an Extreme Leader. -Steve Farber, CEO and Founder of The Extreme Leadership Insitute
HOLMDEL, N.J. (PRWEB) May 06, 2020
Suntuity (https://suntuity.com), a global renewable energy tech company with headquarters in New Jersey, recently announced the hosting of a series of free virtual sales and leadership training programs that enable people with the tools to build a successful career from home.
The series was created and launched in late April with co-host Jordan Belfort and notable Guest Speakers such as Steve Farber, Lee Haight, Albert Preciado and Suntuity's President and CEO Dan Javan, and was featured online through CNN, Washington Post, Boston Herald and NBC News. With over 250,000 views to date, this program is available to any individual looking to increase their income stream. The series will run through the end of June and will include some of the world's most renowned authorities on sales, leadership and life coaching.
Steve Farber, Founder and CEO of the Extreme Leadership Institute and Wall Street Journal Bestselling Author of Greater Than Yourself, The Radical Leap, and Love is Just Damn Good Business, is slated to conduct a 5-day leadership training from May 11th - May 15th, 2020. Farber's upcoming Suntuity-sponsored video series, Extreme Times Call for Extreme Leaders: Are You Ready to Be One of Them?, is another opportunity for individuals to equip themselves with more strategies to succeed during an uncertain economic circumstance.
"Extreme Leadership is not about your position or title; it's about who you are, how you live, how you work, and your ability to rally yourself and others to succeed together—especially in these uniquely challenging times," said Farber. "I'm honored to partner with Suntuity on these Virtual Training Events to equip people with the tools and strategies that will help you master the art of becoming an Extreme Leader."
Interested viewers can register for the upcoming series at https://RiseWithSuntuity.com with the option to watch all livestream replays from previous trainings.
With recruiting as a driving focus and one of the few organizations actively hiring amidst the pandemic, Suntuity has been onboarding individuals that are either eager to join the Suntuity Team (https://www.suntuitysolar.com/careers/apply/) or its Affiliate Marketing Program (https://www.suntuitysolar.com/affiliates/).
About Suntuity Group
The Suntuity Group of companies (https://suntuitygroup.com) comprise of a conglomerate of global renewable energy, finance, technology, and UAV service companies that develop, build and manage hundreds of megawatts of energy projects across the globe. Founded in 2008 and headquartered in Holmdel, New Jersey, the Suntuity Group currently operates in 8 countries and 10 US States.
About Steve Farber
Steve Farber is the president of Extreme Leadership, Incorporated, and the founder of The Extreme Leadership Institute, organizations devoted to the cultivation and development of Extreme Leaders in the business community, non-profits and education. His third book, Greater Than Yourself: The Ultimate Lesson In Leadership, was a Wall Street Journal® and USA Today® bestseller. His second book, The Radical Edge: Stoke Your Business, Amp Your Life, and Change the World, was hailed as "a playbook for harnessing the power of the human spirit." And his first book, The Radical Leap: A Personal Lesson in Extreme Leadership, is already considered a classic in the leadership field. It received Fast Company magazine's Readers' Choice Award and was recently named one of the 100 Best Business Books of All Time. Farber's much-anticipated new book, Love Is Just Damn Good Business, was published by McGraw-Hill on September 6, 2019.
Disclaimer:
The information in this release has been included in good faith and is for general purposes only. It should not be relied upon for any specific purpose and no representation or warranty is given as regards to its accuracy or completeness. No information in this press release shall constitute an invitation to invest in neither Suntuity nor any of its affiliates. Neither Suntuity, nor its affiliates' officers, employees or agents shall be liable for any loss, damage or expense arising out of any action taken on the basis of this press release, including, without limitation, any loss of profit, indirect, incidental or consequential loss. All Trademarks are the property of their individual owners.