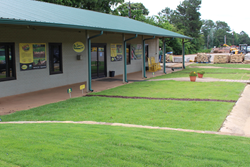 The sod looks beautiful, and the customer can really get a feel for what they want to have in their yard.
Atlanta, GA (PRWEB) May 30, 2017
During spring 2017, Super-Sod stores in Marietta and Forest Park received facelifts with updated turfgrass plots that include each unique variety of sod offered by Super-Sod.
"We are excited for a variety of reasons, but the main one being we can show the customer every type of grass we carry," said Ashley Holder of accounts payable and receivable at Super-Sod of Marietta. "The sod looks beautiful, and the customer can really get a feel for what they want to have in their yard."
Over the past few years, Super-Sod stores have updated their inventory to include new types of turfgrass. Sod plots at the stores in Marietta and Forest Park were renovated to properly display the nine varieties of turfgrass currently available.
Additions to the sod plots include TifTuf Bermuda, Zeon Zoysia and Leisure Time Zoysia.
Team members in Forest Park each contributed to the plot makeover.
"Our crew pitched in to renovate the sod plots," said Mike Darsey, Atlanta area manager. "It was a good experience for all of us!"
Mixon Landscaping installed the new sod plots in Marietta and additionally created a customer-friendly layout during the project.
Because there are four varieties of Zoysia grass, the new sod plots at both stores feature each type of Zoysia side-by-side. This allows customers to look at and feel the different textures to determine which Zoysia will work best for their lawn.
"It's a fresh look and a great experience for our customers," Darsey said. "Where else can you go see and interact with nine different varieties of grass?"
New labels displaying the various grass types add ease of navigation to the plots for customers as well.
"Every plot is labeled, which is convenient for our customers who cannot make it to the store during business hours but want to look before they make a purchase," Holder said.
Lawn enthusiasts can feel the grass between their toes at Super-Sod of Marietta, located at 5058 Canton Road NE, Marietta, Georgia 30066. Customers near Forest Park can visit Super-Sod at the Atlanta State Farmers Market, 16 Forest Parkway, Shed 39, Forest Park, Georgia 30297. Business hours are 7:30 a.m. to 4:30 p.m. Monday through Friday and Saturdays from 7:30 a.m. to noon during peak landscaping season. Sod, organic compost in a cubic yard BigYellowBag, mulch and lawn care supplies are all available at these locations.
Super-Sod, a subsidiary of Patten Seed Company, is a family run business that employs experts in turf and horticulture. Patten Seed Company began in 1893 in Lakeland, Georgia, as a general store, providing seed for customers. Since then, Patten Seed Company has brought innovation to the turfgrass industry through production of different seed and sod varieties. The Super-Sod brand was formed in 1980 to market sod to expanding urban markets. Super-Sod continuously develops new garden products; fosters gardening and landscaping; and seeks improvement in farming practices, technology, environmental stewardship and employee knowledge. Information on Super-Sod locations throughout the Southeast can be found at SuperSod.com.